Watch: BTS' 'Dynamite' Lyrics Recited by George Clooney
BTS's Dynamite Lyrics Dramatically Read By George Clooney; Watch Viral Video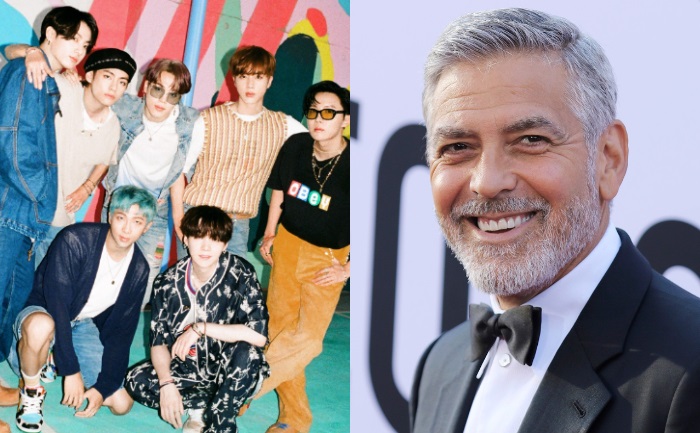 Hollywood's charismatic handsome superstar George Clooney seems to have joined the long list of BTS fans. The actor recently recited did a dramatic read of the lyrics for BTS's Dynamite for W Magazine. It was as a part of a virtual celebration for W's annual Best Performances Issue. Clooney who is the magazine's cover stars, performed the improv reading of BTS' first Billboard Hot 100 No. 1 hit. The ARMY' was left super impressed as it's exactly as reverential as fans would hope.
Watch the viral video shared by W here:
George Clooney's dramatic reading of @BTS_twt Dynamite will soothe your soul. pic.twitter.com/MWDFPmuw7r

— W Magazine (@wmag) February 27, 2021
George Clooney says, "Hello, I'm Brad Pitt," with a straight face in the introduction. "And I'm going to read 'Dynamite' by BTS." He mostly gives a straightforward reading. But there are moments in the video where he adds his own quirks to the recital. Like when he reads, "Jump up to the top, LeBron" and adds: "And we know who that is." Or says "Oh, Jesus" as he encounters the "Dy-na-na-na-na-na-mite" portion of the song.
Recently fans of the popular group slammed the German host of the radio show Bayhem 3. It was for his anti-racial remark. The Bavarian radio station's presenter Matthias Matuschik made certain controversial remarks that upset the K-pop band's die-hard fans. Bayern 3's presenter Matthias Matuschik has called BTS, the band similar to COVID-19. Matthias soon faced the ire of the ARMY as they took to social media to slam the host for his controversial remarks.
Also Read: German radio presenter slammed for racist remarks against 'BTS'