Weekly Horoscope Jan 26-Feb 01, 2020: Check astrological predictions for all Sun Signs
Get most accurate astrological predictions and weekly horoscope for all 12 zodiac signs for Jan 26-Feb 01, 2020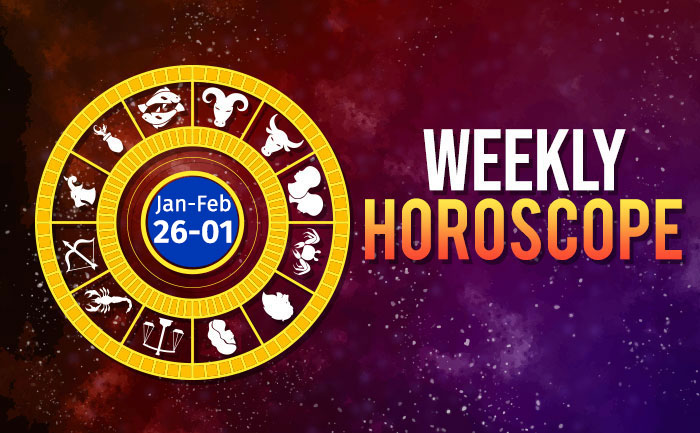 Planets have a big influence on our life. They affect each individual in a different manner as per their Sun Sign. Sometimes they have a positive influence and sometimes it is not so. You must be wondering how this first week of September plays out for you? Do not feel jittery read our weekly horoscope. Follow it, and relax.
Here is your weekly horoscope as per your Zodiac Sign:
Aries:
Aries you are currently enjoying a wonderful sense of harmony do enjoy this phase. Your income shall rise substantially. Things will move on smoothly in the workplace.  Students will get good results in their studies. You will find yourself in good spirits.
This week, you are likely to have a radically romantic week. If you want to get married, chances are you will find interesting prospects. Although your confidence would attract many, be careful about dominating someone. On the work front, it's a busy and hectic week for you. Many of you will be offered a good position in a reputed firm.  A few of you are likely to go abroad for some company-related work.
If there's something that has been triggering you health-wise, it will sort itself out. Overall, it's a good week for you.
Taurus:
Earth signs enjoy work to some degree or another.  You have been on a lucky streak as far as work is concerned. There will be a noticeable rise in your comforts and luxury. This will be a good week for students. You will spend a good time with your family and some of you may get more interested in religious activities including almsgiving.
There will be many positive changes happening in your love life this week. All the existing problems in your married life will vanish. Those who are in a relationship and want to get engaged can go ahead with the plan.  You will experience incredible levels of energies in you this week.  You are in your best form to complete tasks and prove yourself.
On the health front, take care of yourself and pay heed to even the most minor ailments.
Gemini:
Relationships mean a lot to you. Others serve as your mirrors as they show you who you are. This is the kind of week that's neither too good nor too bad. On the financial front, seek an expert's advice before any important investment. Your near and dear ones are most certainly going to help you in terms of monetary matters.
This week your love life will not be lacking in romance and excitement.  Single people who have been looking to express their feelings to someone should go ahead now.  You will definitely see some major changes in your love life this week. You will be duly appreciated for all the hard work that you have put in.  You literally bask in glory this week.
On the health front, it's a good week, but you are advised to practice enough care.
Cancer:
At work, things look a little tricky so you are advised to be on the top of your game. If you are a student who wants to pursue further education, things look up for you. Ensure that you make the most of the opportunities coming your way,  On the finance front, if there are any due payments, it will all come through.
Cancer, you are sentimental and emotional and you absorb the energy of others much like a sponge. Learn to let things go. Loosen your grip and trust. You will spend more time with your loved ones and make them feel special and cared for.  Expect interview calls that will culminate in a job offer this week.  Those of you who are seeking a promotion should first work on improving your skills.
Cancer sign people will be bothered by a few health-related problems this week.
Leo:
A lion likes to make alliances. But you must always be the head of the pack. A natural leader, this is how you prefer to operate. Do not abuse or exploit this power. It's a good phase for the ones running their own business. New business relationships will also come your way, but be sure to keep your temple in control. For students too, this is a good phase and all your hard work will pay off.
This week is the perfect time for you to start new love relationships and spend time trying to make your partner feel special. The bond that you two share will grow stronger and will be deeply entrenched than ever before. This week on the career front you may not face any hurdles and problems with your new assignments.  Your seniors will be helpful and will guide you in the right direction.
On the health front, don't ignore any signs whatsoever and make health your priority.
Virgo:
On the finance front, mid-week look tight.  For the ones, who are salaried, this is a good week. With your dedication towards work, you will leave your superiors impressed. For students too, this is a good phase. A long-overdue payment might come through which will augment your financial status. Traders dealing with luxury items will benefit this week.
Prioritising health is vital at this time. The sickness that begins in our minds and hearts can spread into our bodies. This is why we must find ways to release that which builds up within us before it can take root. Consider any toxic thoughts or feelings that exist in your body right now. Can you lean into them, feel them and let them go? Can you evaluate your habits? Are you eating well, getting enough sleep and exercising? If not, are you trying to sabotage yourself in any way? We are our own heroes.
You feel a little low this week and this may have an impact on your love life. Arguments and misunderstandings may increase as a result of your negative attitude. Your love life will be much better at the weekend.  Fresh graduates looking for a job come across some good options this week. A new job, which will help you grow professionally, is highly indicated this week.
On the health front, you are likely to catch minor infections so practice due caution.
Libra:
An undercurrent of tension flows through you but only because life is changing in some big and heavy ways.  On the finance front, money flow is right, but don't go overboard. Ensure that you do not lend money and also make sure that you keep a tab on your expenditure. When investing, be sure to take professional help. Students are advised to stay focussed.
As far as romance is concerned the week is expected to bring some confusion and misunderstandings in the start of the week.  The latter period may however strike your need to communicate with your lover.  Teamwork ensures a good week on the work front for you. This is also a very good time for those appearing for interviews, as you will make a very good impression.
Be sure to not take your health for granted. Make a routine, and as much as possible, stick to it.
Scorpio:
Your world is evolving and you are sinking into the process. On the work front, the week has some good news in store for you. Not only will you make progress, but you will be lauded and recognized for all your effort. On the academic front, do not give up and continue to work hard. On the financial front, it's the right time to make some investments.
This week you get to know your mate much better than you did. Confessions made by your partner will bring you two much closer. There will be peace and happiness in your love life. Some of you may find yourselves confused about your career. IT professionals are likely to get a new job. This is also a good week for the unemployed as you may receive a much-awaited job of your choice.
On the health front, you are likely to be prone to seasonal illness so take preventive measures beforehand itself.
Sagittarius:
Good things are coming your way, and there's no way you should think otherwise.  Ensure that you take important decisions quickly and wisely. On the financial front, you will become a pro at managing your income. Traders, as well as salaried people, will get success in their occupational fields. Try to keep your emotions and energy in control
This week will be an improvement for all you married people. Divorced people too could meet someone interesting through a mutual friend.  IT professionals are likely to get a new job. This is also a good week for the unemployed as you may receive a much-awaited job of your choice.
On the health front, don't miss out on routine check-ups as old issues might be resurfacing. Make fitness a priority.
Capricorn:
You are no stranger to hard work. Indeed, can you work any other way?  There will be a sharp rise in your valour and enthusiasm. Don't be tempted to slack off, as an important honour is just over the horizon.  Do not be in a hurry while taking work-related decisions.
This week, singles will find it easier to meet someone who could fit the bill of their potential partner. Committed couples do need to share a strong and effortless communication.  Make the most of the opportunities that are coming your way, and needless to say, they are coming in plenty There is an urgent need for you to step on the accelerator and get going on those important tasks.
Take care of your health, chances are that a serious health issue might be awaiting you.
Aquarius:
Many threads have been weaving together over the course of this month.  Some chapters will now need to be closed which affords you the freedom to move on with your life.  All you need to do now is figure out what that next step will be.  Aquarius sign people will receive good and auspicious news this week.  Your financial, as well as work-related, problems will come to an end.
This can be a great period to build up relationships. This period brings with it energy, positivity and courage to start something new or revive something lost in the daily chores. However,  the expected results might not appear immediately.  This week you succeed in carving a niche for yourself on the professional front. You are likely to get some exciting offers and take your career to greater heights.
Do not neglect your health, and exercise as often as you can.
Pisces:
This month has been a very favourable one for you and there's been an urge to get something new started. This might be a golden period for you, but don't let that make you lose your dedication towards work. Do not hesitate in seeking support from your seniors. If you are a student, be focussed on your academic goals
You are always open to love but this is an especially wonderful time to start a new relationship. This week there are chances that an old friendship will take the form of love.   Love blossoms in your life and keeps you in a happy frame of mind. A new job is on the cards this week. Your ideas are appreciated and you make a good impression on your seniors and colleagues alike.
On the health front, things look good. You will find yourself in high spirits.
Also Read:  Aquarius Love Horoscope 2020: Personality, Traits, Compatibility & Celebs Born Under This Zodiac Sign