WhatsApp suspicious link detection feature is now available on Android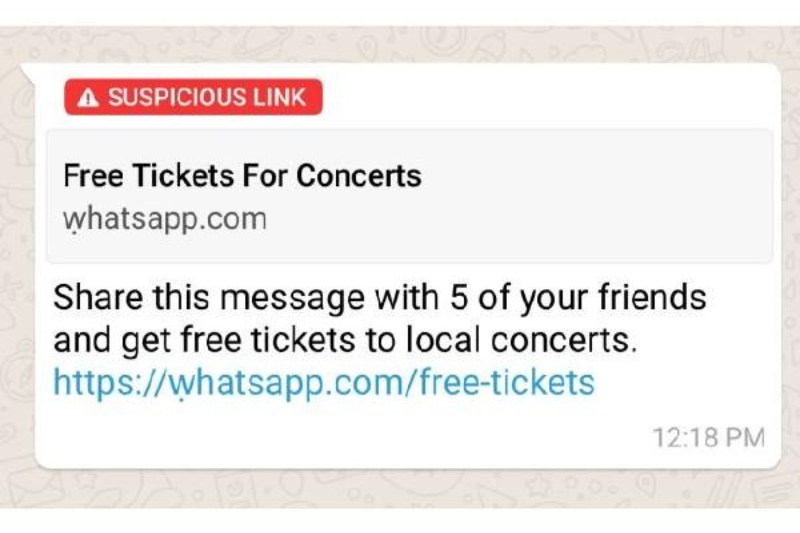 WhatsApp is rolling out a new feature to tackle suspicious messages, which is been circulating in WhatsApp groups. If a user receives a link that is suspicious, it will highlight it in the chat with a Red banner on top with an exclamatory mark. In addition, when a user clicks on such a link, WhatsApp will once again notify the user that the link contains unusual characters and may be trying to appear as another site. The new feature allows the user to be aware of any suspicious messages, which he comes across in his daily life.
The app notes that the indicator may appear when a link contains a combination of characters that are considered unusual and suspicious. "Spammers may use these character combinations to trick you into tapping on links that appear to go to a legitimate website, but actually take you to a malicious site."
WhatsApp Suspicious Link Detection feature is currently available to Android beta users of the app with version number 2.18.221. The feature is available only to Android users and iOS users will have to wait for a while before it appears. To take the advantage of the new feature, WhatsApp users need to first enroll in the beta program and update to the latest version of the App.
Also Read:  PM Modi only acknowledges 15-20 top industrialists: Rahul Gandhi
Importantly WhatsApp has declared in its FAQ states that it automatically performs checks to determine if a link is suspicious. To protect your privacy, these checks take place entirely on your device, and because of end-to-end encryption, WhatsApp can't see the personal information of your messages.
WhatsApp on Friday announced that it will limit the forwarding of messages to five chats at once in India. To tackle the forwarding of fake information on its platform, which has resulted in several deaths.