World Series: Nationals win against the Astros 5-4 In Game 1 Of World Series
The Nationals lead the series 1-0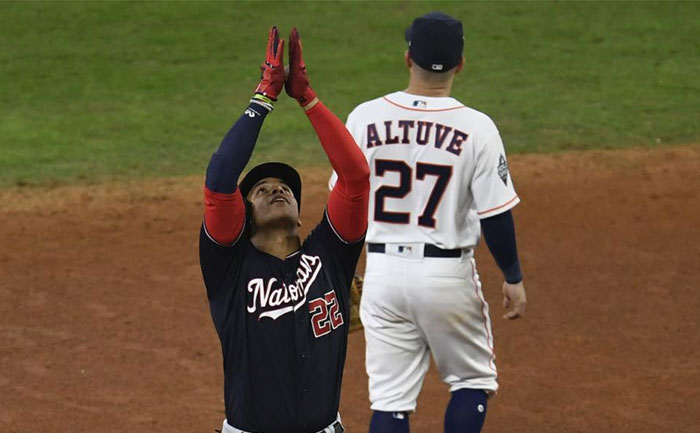 The world Series kicked off with The Washington Nationals beating the Houston Astros 5-4.
Juan Soto led the reign, becoming the fourth player to hit a World Series homer before turning 21. Andruw Jones, Miguel Cabrera and Mickey Mantle are the other players on that list.
"After the first at-bat, I just said, 'It's another baseball game,'" Soto said, according to The Associated Press. "In the first at-bat, I'm not going to lie, I was a little bit shaking in my legs."
The Nationals now lead the Series 1-0.
This also marks Gerrit Cole's first loss since May.
Ryan Zimmerman got a home run on a two-out, first pitch by Cole.
"It's been a long ride," Zimmerman said, according to the AP. "First at-bat, to hit a home run and run around the bases, you're kind of almost floating around the bases."
Dave Martinez said of Zimmerman "I'll be honest with you, my eyes got a little watery for him, he waited a long time to be in this position, and for him to hit that first home run and put us on the board was awesome."
Astros manager AJ Hinch admitted it was not the opener his team had expected.
"[Cole's] been so good for so long that there builds this thought of invincibility and that it's impossible to beat him," Hinch said according to the AP. "So when it happens it is a surprise to all of us."
"I didn't have my A-game tonight," Cole said. "Outside of a few pitches that tacked on a few runs, we worked pretty well with what we had. These are the two best teams in the world right now so you try not to beat yourself up too much, especially if you've got to grind in those situations."
ALSO READ: Houston Astros Defeat New York Yankees In The The American League Championship Series