AEW News: Former WWE Announcer Dasha Fuentes Joins AEW
Former WWE Announcer Dasha Fuentes Makes AEW Debut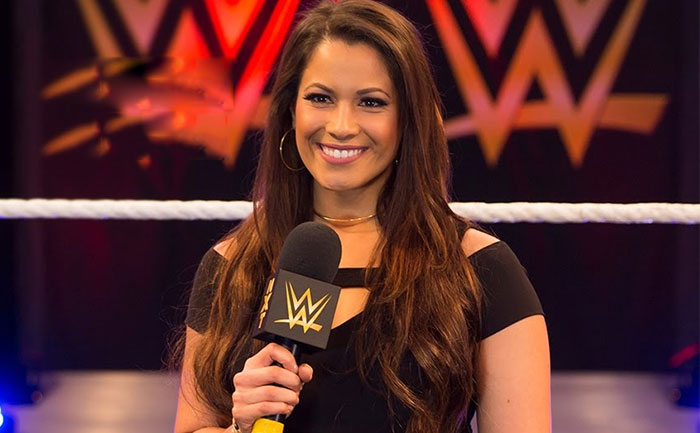 Dasha Kuret Gonzalez — is an American fitness model, professional wrestler and ring announcer — is popularly known for her time in WWE under her ring name Dasha Fuentes. The popular WWE backstage interviewer Dasha Fuentes has recently made an announcement to work for All Elite Wrestling (AEW).
Dasha Fuentes is currently announcing for the Spanish version of AEW Dark, the YouTube show that features matches taped before and after Dynamite on TNT.
After appearing at ringside with Justin Roberts during the Fight For The Fallen and Fyter Fest shows, it was speculated that people will soon witness Dasha working for AEW. Dasha was released by WWE in April during WrestleMania week. A slip up during an interview with Roman Reigns is the reason why she was released.
Notably, Dasha has already worked over 5 years for WWE and she was initially brought in to be a wrestler. In April 2015, she collaborated with Dana Brooke and Becky Lynch in a match against Carmella, Alexa Bliss and Devin Taylor. Injuries sidelined her in-ring career but she transitioned into being a backstage interviewer.
You can watch AEW Dark with Dasha providing the Spanish announcing below:
AEW Dark goes live each and every Tuesday night at 7 PM ET and it features the dark matches that take place before and after each week's episode of AEW Dynamite.
Also Read: Alicia Fox Possibly Retires From WWE