Aarey Protest: No more trees to be axed orders Supreme Court
Supreme Court stops tree cutting in Mumbai's Aarey till next hearing on October 21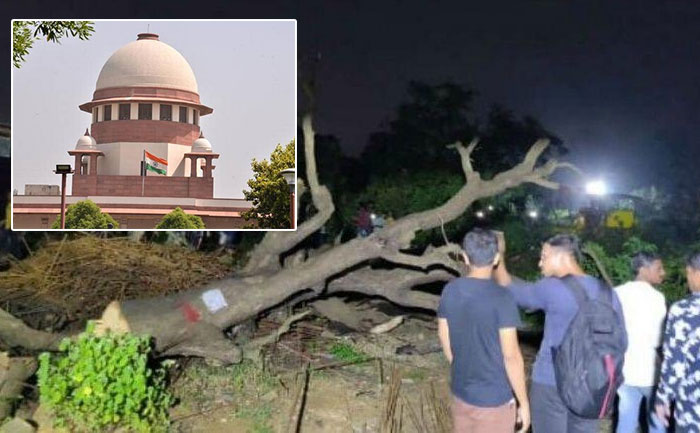 The Supreme Court has ordered that there is no need to cut off any more trees in the Aarey Colony for the Metro Shed till the next hearing. This order was passed by the honourable court after a group of students had written an appeal letter to the Chief Justice of India Ranjan Gogoi. A group of 29 activists were protesting the felling of trees on Friday night following the High Court go-ahead order. The activists were soon arrested.
A special bench of Justice Arun Mishra and Ashok Bhushan were set up after the students wrote to the chief justice. They have set in motion an order that no more trees should be cut in Aarey Colony till the next hearing.
As reported by HT, The special bench ordered, "Don't cut anything now." They also ordered the immediate release of the activists who arrested. They were soon released by a holiday court post a bail bond of Rs. 7000 and also asked not to take part in any protests in future.
The MMRC had started felling of trees after the High Court had rejected petitions challenging the felling of 2,464 trees from Aarey Milk Colony to make way for a car shed for Mumbai Metro Line – 3. Locals and activists claimed that hundreds of trees have already been cut. As civic workers started cutting trees late at night, hours after the High Court order, the protesters were charged with obstructing and assaulting policemen and arrested.
The Supreme Court has also asked the Maharashtra government to maintain a status quo and also file a report on the status of saplings that they have planted.
Uddhav Thackeray, chief of the BJP's coalition partner Shiv Sena, and his son, Aaditya have thrown their weight behind the activists.
Aarey Colony is the only Green Belt in the middle of the city and home to many fauna and flora. It is also known as the Lungs of Mumbai. The Government's decision to cut down the forest cover has many up in arms against it.
Also Read: Aarey Issue: Bombay HC Dismisses Pleas Against Felling of Over 2,500 Trees