Amy Jackson Celebrates Her 28th Birthday With Rain Dance in Bikini, Pics Go Viral
Actress Amy Jackson rang in her 28th birthday in Seychelle with her newborn son Andreas.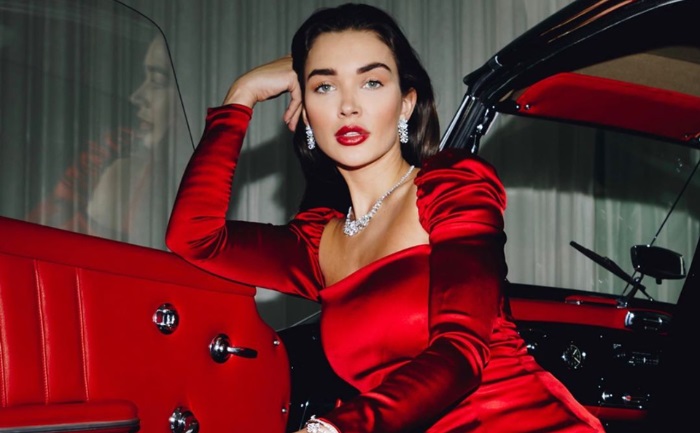 Actress and Model Amy Jackson celebrated her 28th birthday on 31st January 2020 in Seychelles along with her family. Amy Jackson gave her fans a sneak-peek of her birthday celebrations on Instagram.
Amy shared a beautiful monochrome photo of herself soaking in the rain on Instagram, she penned down a long note and wrote about the things she's appreciative for, she wrote, "Just to 'simply' wake up and see my son lying next to me is a blessing. To be able to walk outside on my own two legs and hear the waves with my own two ears is a blessing. To have the chance to speak to my best friends and family so I can tell them I love them is a blessing.
If you opened your eyes today and took another breath – you're winning!! With everything that's happening across the world right now… just to LIVE another day is truly a gift!! I'm going into my 28th year on this planet with a whole new perspective and a heart filled with gratitude anddddd I'm gonna start with this little rain dance!! Yes it's p*ssing down on my birthday and there's not an ounce of sun to be seen BUT on the plus side, the plants are happy ?"
In another post, Amy shared hot bikini photos of her with Andreas, while lying down on a coconut tree by the ocean. The mother-son duo twin with each other in red bathing suits and another was a solo shot, the Singh Is Bling actress wrote, "real life VS insta life (and no, I didn't just chuck AP into the sea ??‍♀️)
For the unversed, Amy Jackson and George Panayiotou welcomed their baby Andreas on 23rd September 2019. Not only that, the couple got engaged last year as well and it was shortly after their engagement she announced her pregnancy.
On the professional front, she was last seen in Robot 2.0 featuring veteran actor Rajnikanth and superstar Akshay Kumar.