LIVE: Atal Bihari Vajpayee final journey: Former PM laid to rest with full military honours at Smriti Sthal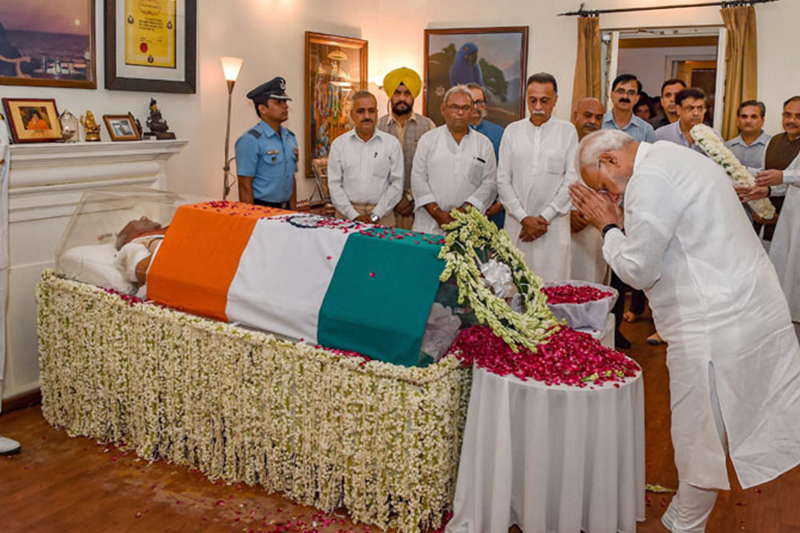 Former prime minister Atal Bihari Vajpayee, who passed away on Thursday at 5.05 pm in the national capital will be cremated in Delhi with full state honours on Friday. The Bharatiya Janata Party stalwart's body is now being taken to the party headquarters, where politicians from different parties will pay their last respect to the great leader.
Soon after the news broke that Vajpayee had passed away, the nation was in grief and started paying tributes to the talismanic politician. Be it Prime Minister Narendra Modi, Vice President Venkaiah Naidu, President Ram Nath Kovind, Congress leader Sonia Gandhi, Congress president Rahul Gandhi, WB CM Mamata Banerjee, Bihar CM Nitish Kumar, Odisha CM Navin Patnaik, or other chief ministers of states, everyone arrived at the AIIMS to see Vajpayee. All these leaders also paid their condolences on the social networking website.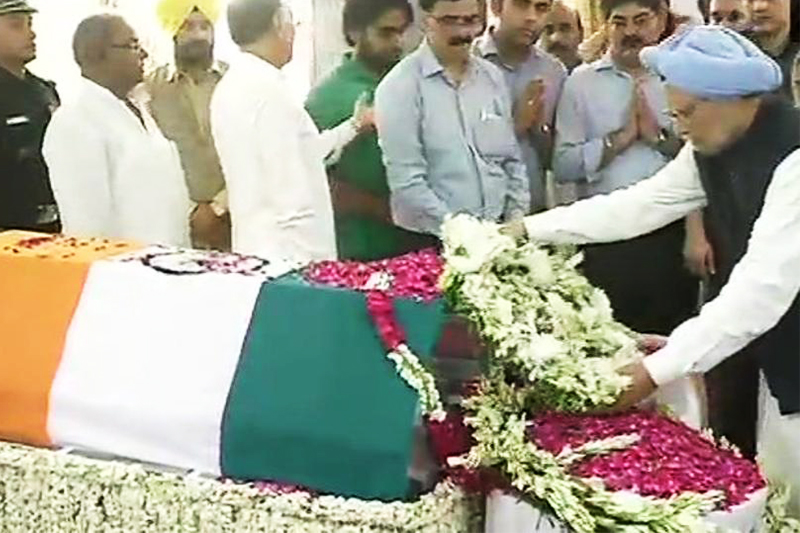 The ex-PM's body was kept at his bungalow on Krishna Menon Marg in New Delhi, where innumerable people came to pay their last respect. In the morning his body was being carried to the party headquarters in the national capital. After the visit by eminent politicians, Vajpayee's body will be cremated at Rashtriya Smriti Sthal at 4 pm. An area of 1.5 acres plot has been kept for the three-time prime minister of the country.
It is to be known that as a mark of respect, the country is observing a state mourning for seven days. Also, the Delhi High Court and all district courts will function till 1 pm on Friday.
Sharing his respect for Vajpayee, Prime Minister Narendra Modi wrote:
I have lost a father figure. Atal Ji taught me vital facets of both 'Shaasan' and 'Sangathan.' His noble thoughts will live on and we will fulfil his dreams for the country.
Stay Tuned…
Former prime minister and Bharat Ratna #AtalBihariVajpayee cremated with full state honours at Smriti Sthal in Delhi pic.twitter.com/Y3ff4o43SP

— ANI (@ANI) August 17, 2018
Last rites ceremony of former PM #AtalBihariVajpayee underway at Smriti Sthal pic.twitter.com/ws2VYaKaHB

— ANI (@ANI) August 17, 2018
Delhi: Tricolour wrapped around mortal remains of #AtalBihariVajpayee handed over to his granddaughter Niharika. pic.twitter.com/Ela6rD3PWG

— ANI (@ANI) August 17, 2018
Senior BJP leader LK Advani and BJP President Amit Shah pay last respects to former PM #AtalBihariVajpayee at Smriti Sthal pic.twitter.com/51KVjpTDJR

— ANI (@ANI) August 17, 2018
Former Afghanistan President Hamid Karzai and Sri Lanka acting Foreign Minister Lakshman Kiriella pay last respects to former PM #AtalBihariVajpayee at Smriti Sthal pic.twitter.com/BaWegOx4mi

— ANI (@ANI) August 17, 2018
King of Bhutan Jigme Khesar Namgyel Wangchuck pays last respects to former PM #AtalBihariVajpayee at Smriti Sthal pic.twitter.com/0t5KiYojtI

— ANI (@ANI) August 17, 2018
Last salute accorded to former PM #AtalBihariVajpayee at Smriti Sthal pic.twitter.com/ylBPC8X2rf

— ANI (@ANI) August 17, 2018
President Ram Nath Kovind pays last respects to former PM #AtalBihariVajpayee at Smriti Sthal in Delhi pic.twitter.com/TdJsh0wpm6

— ANI (@ANI) August 17, 2018
Defence Minister Nirmala Sitharaman and Lok Sabha Speaker Sumitra Mahajan pay last respects to former PM #AtalBihariVajpayee at Smriti Sthal in Delhi pic.twitter.com/MZpQhYQi1t

— ANI (@ANI) August 17, 2018
PM Narendra Modi pays last respects to former PM #AtalBihariVajpayee at Smriti Sthal pic.twitter.com/Yd62t8atlH

— ANI (@ANI) August 17, 2018
Poet, politician, visionary, he left his mark on India's history. His name remains linked to the Indo-French friendship, which he shaped by launching the strategic partnership that has united our two countries since 1998: France statement #AtalBihariVajpayee pic.twitter.com/vIm3U639RP

— ANI (@ANI) August 17, 2018
#WATCH live from Delhi: Last rites ceremony of former Prime Minister #AtalBihariVajpayee at Smriti Sthal https://t.co/HbeppXjsPz

— ANI (@ANI) August 17, 2018
Delhi: Former Prime Minister Manmohan Singh and Congress President Rahul Gandhi arrive at Smriti Sthal for the funeral of former PM #AtalBihariVajpayee pic.twitter.com/lw1jtCx3DF

— ANI (@ANI) August 17, 2018
All the medals which will be won by the Indian athletes in #AsianGames2018 will be dedicated to the former Prime Minister #AtalBihariVajpayee: Chef de Mission (CDM) Brij Bhushan Sharan Singh to ANI (file pic) pic.twitter.com/ex16bq6dDj

— ANI (@ANI) August 17, 2018
Union Jack flies at half-mast at the British High Commission in New Delhi as a mark of respect to Former PM #AtalBihariVajpayee. pic.twitter.com/QN0DKiB5OW

— ANI (@ANI) August 17, 2018
The mortal remains of former PM #AtalBihariVajpayee being taken to Smriti Sthal for funeral. PM Modi and Amit Shah also take part in the procession. The distance is around 4 kilometers. pic.twitter.com/vJWTLwMwhm

— ANI (@ANI) August 17, 2018
#Delhi: Mortal remains of former PM #AtalBihariVajpayee being taken to Smriti Sthal for the funeral pic.twitter.com/5G7JjuKmC1

— ANI (@ANI) August 17, 2018
The mortal remains of former PM #AtalBihariVajpayee being taken to Smriti Sthal for funeral. PM Modi also takes part in the procession pic.twitter.com/QE3iS9qZj6

— ANI (@ANI) August 17, 2018
#WATCH live from BJP Headquarters in Delhi: Party leaders pay last respects to former PM #AtalBihariVajpayee https://t.co/BRFiVgVquY

— ANI (@ANI) August 17, 2018
Delhi: Maharashtra CM Devendra Fadnavis and Chhattisgarh CM Raman Singh pay last respects to former Prime Minister #AtalBihariVajpayee at BJP Headquarters. pic.twitter.com/fTC8MDUvOH

— ANI (@ANI) August 17, 2018
King of Bhutan Jigme Khesar Namgyel Wangchuk arrives in Delhi, he will attend the funeral of former PM #AtalBihariVajpayee. pic.twitter.com/cjQZZ5CjsY

— ANI (@ANI) August 17, 2018
#Delhi: UP Chief Minister Yogi Adityanath and Governor Ram Naik pay last respects to former Prime Minister #AtalBihariVajpayee at BJP Headquarters. pic.twitter.com/S7DB2MseRo

— ANI UP (@ANINewsUP) August 17, 2018
Delhi: DMK leader A Raja, Assam CM Sarbananda Sonowal and Manipur CM N Biren Singh pay last respects to former Prime Minister #AtalBihariVajpayee at BJP Headquarters. pic.twitter.com/4KVGTxC55Q

— ANI (@ANI) August 17, 2018
#Delhi: BJP President Amit Shah and Union Home Minister Rajnath Singh pays last respects to former Prime Minister #AtalBihariVajpayee at BJP Headquarters. pic.twitter.com/RnyGmxRL3T

— ANI (@ANI) August 17, 2018
Delhi: Prime Minister Narendra Modi pays last respects to former Prime Minister #AtalBihariVajpayee at BJP Headquarters. pic.twitter.com/HfqBe0xdcP

— ANI (@ANI) August 17, 2018
#Delhi: The mortal remains of former PM #AtalBihariVajpayee have been brought to BJP Headquarters pic.twitter.com/ujL8ZmYn6a

— ANI (@ANI) August 17, 2018
Bangladesh Foreign Minister Abul Hassan Mahmood Ali arrives in Delhi, he will attend the funeral of former PM #AtalBihariVajpayee. pic.twitter.com/oRtSqslSVR

— ANI (@ANI) August 17, 2018
Minister for Foreign Affairs of Nepal Pradeep Kumar Gyawali arrives in Delhi, he will attend the funeral of former PM #AtalBihariVajpayee. pic.twitter.com/pKK5f5Suok

— ANI (@ANI) August 17, 2018
Delhi: Veteran BJP leader LK Advani and his daughter Pratibha Advani with Shiv Sena Chief Uddhav Thackeray and his family at the BJP Headquarters. #AtalBihariVajpayee pic.twitter.com/axDybGEQmV

— ANI (@ANI) August 17, 2018
It was the speciality of Atal ji that he never let humanity be harmed due to the political & ideological differences. Such principle is needed in the country today: Sitaram Yechury, CPI(M) General Secretary #AtalBihariVajpayee pic.twitter.com/zAnzCI2Dus

— ANI (@ANI) August 17, 2018
He was an enormously important person who we have great respect for and it's a great loss for India. I wanted to pay my respects to a man of that stature: Dominic Asquith, British High Commissioner to India #AtalBihariVajpayee pic.twitter.com/wQYq86y2ZG

— ANI (@ANI) August 17, 2018
We remember him for his contribution to Bangladesh Liberation War&strong support to people of Bangladesh.He had great liking for Bengali music.I had the privilege of serving in Delhi as career diplomat when he became Foreign Minister: Bangladesh Foreign Min on #AtalBihariVajpayee pic.twitter.com/wzCZgEB8kf

— ANI (@ANI) August 17, 2018
BJP MP Hema Malini pays last respects to former Prime Minister #AtalBihariVajpayee at the BJP Headquarters in Delhi. pic.twitter.com/ZqUU0pPrC5

— ANI (@ANI) August 17, 2018
I met him once in 2006. He was a very good orator. The void of his absence can never be filled by anyone in Indian politics, he has been a role model for everyone and inspired many through his poetry, speeches and oratorship; Filmmaker Madhur Bhandarkar #AtalBihariVajpayee pic.twitter.com/9xNnIvjMbm

— ANI (@ANI) August 17, 2018
King of Bhutan Jigme Khesar Namgyel Wangchuck pays tribute to former PM #AtalBihariVajpayee at BJP HQ. PM Modi, EAM Sushma Swaraj and Amit Shah also present pic.twitter.com/9JVvUQ1DH2

— ANI (@ANI) August 17, 2018
Sri Lanka acting Foreign Minister Lakshman Kiriella arrives in Delhi, he will attend the funeral of former PM #AtalBihariVajpayee. pic.twitter.com/4tqmmFbVn4

— ANI (@ANI) August 17, 2018