Bigg Boss 13: Sye Raa Narasimha Reddy cast to promote film in first Weekend ka Vaar episode
Sye Raa Naraimsha Reddy cast to promote their film in Bigg Boss 13's first Weekend Ka Vaar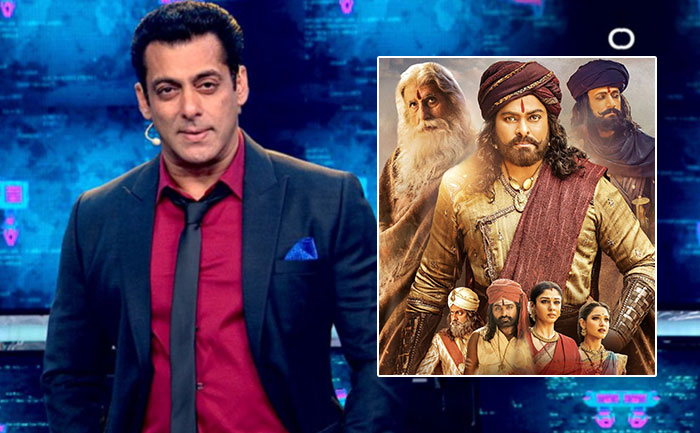 Bigg Boss season 13 which aired on 29th September has finally reached to its first Weekend Ka War episode. Salman Khan's reality TV show Bigg Boss has been a topic of discussion ever since it was announced this year. According to latest reports, Sye Raa Narasimha Reddy cast will grace first Weekend Ka Vaar episode to promote their film, which has been facing a tough fight with Tiger Shroff and Hrithik Roshan starrer WAR at the box office.
The first Weekend Ka Vaar episode of Bigg Boss season 13 will air today (5th October) and Salman Khan will be seen on the show too. We have recently seen Hina Khan posing with Salman Khan in the house of Bigg Boss. The gorgeous actress has been visiting the sets of Bigg Boss since its fourth season.
Sharing the picture of her with Salman Khan on Instagram, she wrote, "It's always a pleasure to share the stage with you Salman.. Meeting you since four seasons now in #BiggBoss #LuckyMe #OurLittleTradition #WeekEndKaWaar #Season10,11,12,13."
Notably, Hina Khan is currently busy shooting for her digital debut and Bollywood project as well. After Hina Khan, fans of Bigg Boss will see the cast of Sye Raa Narasimha Reddy gracing the Salman Khan show. According to reports, Chiranjeevi and film's entire cast have recently shot the episode and it is likely to air today.
Speaking about the show, it has not been a week since the 13th season of Bigg Boss started but it has already witnessed a lot of fights, drama and controversies. In the most recent episode, we saw how Shefali Bagga and Develeena Siddharth Dey indulged in some heated argument.
Also Read: Bigg Boss 13 Day 5 Highlights: Girls Get An Opportunity To Nominate The Boys