BTS's Jimin and Jungkook Take Internet By Storm With THIS JiKook Moment
BTS member JIMIN and Jungkook go viral for their cuddling moment In Episodes 97 and 98 of Run BTS.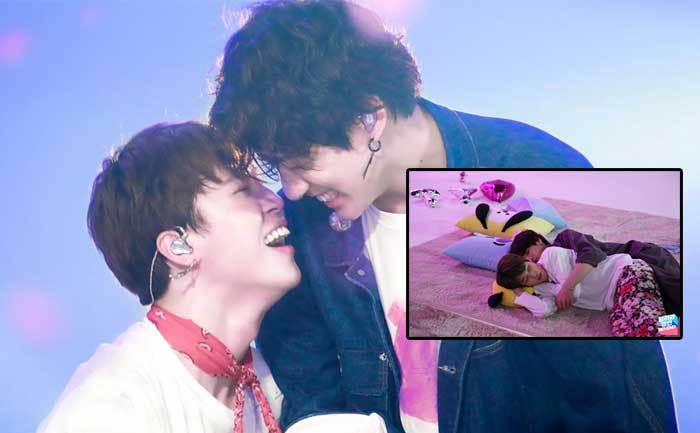 BTS members Jimin and Jungkook have once again taken the world of social media by storm with their cuddling pictures. We all know how unbreakable bond Jimin and Jungkook share with each other and it seems to be getting more stronger as passing days.
Also Read | BTS's Jungkook Dedicates A Song To His Motherly Members, Find Out
The Bangtan Boys — who had to cancel the Korean leg of Map of The Soul tour rescheduled the North American leg of the tour — have recently appeared on a new episode of Run BTS. The behind the scene photos and videos of BTS members have been keeping BTS ARMYs entertained during the self-quarantine period.
Also Read | Video Of BTS's Jin, Suga, Jungkook Playing Hopscotch Will Surely Remind You Of Your Childhood Days
Like every other episode, BTS members Mochi, Kookie, RM, Jin, V, Suga and J-Hope came together to shoot a series of fun activities. What caught ARMY's attention was Jikook's adorable moments.
As per the photos, Chim Chim was fast asleep in his white tee and colourful pyjamas. Jungkook decided to cuddle Mochi. In the very next moment, he found a place beside him, wrapped his arms around his fellow bandmate and took a nap.
Also Read | These 7 Things In His Life Will Make BTS's Jimin Extremely Happy
As soon as the photos of the event uploaded on Twitter and Instagram, it went viral in no time.
"MY HEART SKIPPED EVERY BEAT SEND AN AMBULANCE," begged a fan. There were people who wondered the authenticity of the Jikook moment. A fan claimed to have bought a subscription of Weverse to check whether it is real or not.
Also Read | Nicole Scherzinger Wants BTS's JIMIN To Be On The Masked Singer
"This is not an edit ! I repeat this is not an edit !" assured another ARMY member. "i was reading a jikook fic and then this happened THANK U JIKOOK GODS," added another Jikook supporter.
NOOOOOOO JIMIN IS SLEEPING THERE AND JUNGKOOK CAME AND THEN CUDDLED JIMIN TO SLEEP NEXT TO HIM PLSSSSSS IM SOFT FOR MY JIKOOK HEART ??? pic.twitter.com/MlczpG0Sns

— ᴊɪʟ ⋆¸·˚☼ ⁷ (@jkbun_) April 1, 2020
I CAN'T EVEN FUNCTION ANYDMWLDOEJS

— ?⁷ (@kmhearteu) April 1, 2020
It's real- I bought a 90 day Weverse subscription to confirm cause I thought it was a prank ?

— Amber W. (@Cerci21) April 1, 2020
Aiiiiiiiyaiiiiiya… Calm your heart… This is real… Yes… Don't freak just yet… More to come…. But yes JIKOOK FREAKING CUDDLING
J
KOOK THE BIGSPOON!!!!!
AAAAAAADNKGENSJNXN IS AS NAJDJKDSLNSSBKSKCAA AVHS

— Shreeta⁷ 😕 MOTS: 7 LOCKDOWN? (@FreeSpiritShree) April 1, 2020
i swear this is so cute my jikook heart can't handle it anymore ?

— jikook-babies (@JiminieTitties) April 1, 2020
BTS ARMYs can't get enough of this moment.
Meanwhile, BigHit Entertainment has recently released a video from the night BTS shot for their episode with Jimmy Fallon in the subway.