BTS's V indulges in #StayHomeChallenge, grooves to The Chainsmokers and Halsey's 'Closer'
BTS member V aka Kim Taehyung indulges in #StayHomeChallenge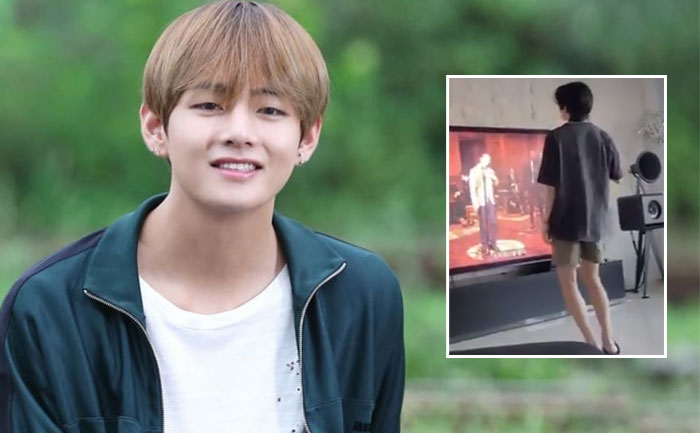 V aka Kim Taehyung is one of the most popular BTS members. He is on a cloud nine as he has become the most popular Korean celebrity in Japan. BTS's V seems to have found ways to keep himself and the ARMYs entertained during the self-quarantine period.
Also Read | BTS's V Wins The 100 Asian Heartthrobs 2020 For The Third Consecutive Year
As the entire world is currently in a state of uncertainty and panic, the 24-year old musician makes sure he has all his fans informed and updated about what he is doing during the lockdown. Besides holding live sessions on VLive and Weverse, BTS's V keep posting pictures and video of himself and other BTS members on social media to treat BTS ARMY.
Also Read | BTS's V Indulges In "StayAtHomeChallenge", Video Gets Shared By Korea's Ministry Of Culture, Sports, And Tourism
Taking to the microblogging site, Kim Taehyung has shared a new video in which he can be seen grooving to the beats of The Chainsmokers and Halsey's song, 'Closer'. Instead, he is listening to the 50s style cover version of the song which has been performed by an artist, Kenton Chen.
Also Read | BTS Member V Becomes The Most Popular Korean Celebrity In Japan

Sharing the video on Twitter, he wrote a caption, "Everyone, if you are bored, then talk to the TV~#StayAtHomeChallenge." Besides Twitter, he also posted the same video on their TikTok account.
여러분 심심하면 티비와 대화하세요~#집콕챌린지 pic.twitter.com/ZcboiW4Bnj

— 방탄소년단 (@BTS_twt) April 5, 2020
While the song plays, BTS's V tried hard to mimic the dance moves he sees on the screen as someone records him from the couch.
As soon as he posted this video on Twitter, his comment section was flooded with comments such as "Taehyung, you're so cute," "Amazing moves, Tae! Hope you're having fun and relaxing! We miss you," and "Taehyung, thank you for always making ARMY happy."
Also Read | BTS's V And BLACKPINK's Jennie Included In Top 10 Most Stylish K-Pop Idol List

The video of V grooving to the beats of The Chainsmokers and Halsey's song comes a few days after he was seen swaying to Justin Bieber's 'Intentions' from his album 'Changes' which signing their albums.
A few days back, a media platform The Talko released a list of top 10 most stylish K-pop Idol and it also had a name of BTS member V and Blackpink's Jennie. The list of the most stylish K-pop Idol is topped by The8, which is one of the members of K-pop SEVENTEEN.