BTS Wins May 18 "Show Music Core" For 4th Consecutive Time – Watch
BTS has overtaken Park Hyo Shin's "Goodbye' and TWICE's "Fancy" to top the list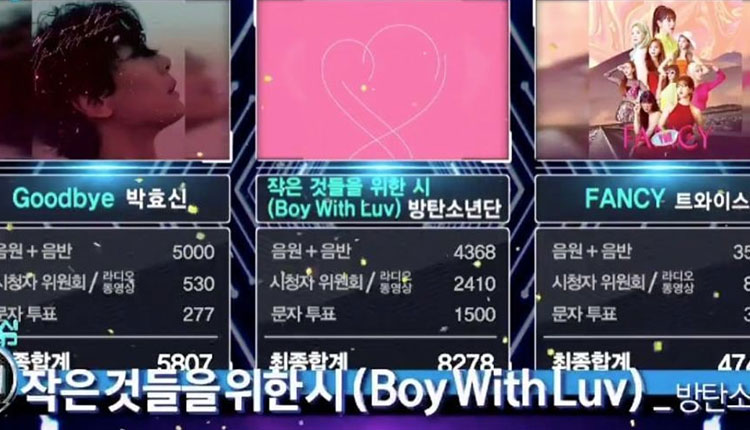 The Bangtan Boy (BTS) seem to have achieved yet another milestone this week. Yes, you read that right, after their stunning performances on CBS's "The Late Show With Stephen Colbert', BTS has topped the May 18 television programme of MBC's 'Show Music Core', which had Park Hyo Shin's "Goodbye', BTS's latest release "Boy With Luv" and TWICE's "Fancy".
It is to be noted that BTS has won the Show Music Core competition consecutively for the fourth time and this marks their 12th win for 'Boy With Luv". In the MBC's Music Core, Park Hyo Shin's scored the second position with 5,807 points, TWICE got the third position with 4,748 points BTS topped the list with 8,278 points. BTS's J-Hope Donates £65,000 To Provide Scholarships To Low-Income Students
Notably, Show Music Core airs on every Saturday and features some of the latest and most popular artists who perform live on stage. It is broadcast from MBC Dream Center in Goyang, Gyeonggi-do.
On May 17's episode, WINNER returned with "Ah Yeah", Weki Meki returned with "Picky Picky", EXID made a comeback with "ME&YOU", BVNDIT made their comeback with "Dramatic", Kim Dong Han returned with "Focus", Gardensay made their comeback with "Dear My Heart", and Song Ga In came back with "nameless actress".
The episode had witnessed the performances of EXID, Weki Meki, Nam Woohyun, Yoo Seung Woo, Oh My Girl, N.Flying, NC.A, Kim Dong Han, The Boyz, 1THE9, BVNDIT, DONGKIZ, Lim Jimin, Gardensay, and Song Gain.
You Check out the performances below!
WINNER
COMEBACK: WINNER
COMEBACK: Weki Meki
COMEBACK: EXID
COMEBACK: BVNDIT
COMEBACK: Kim Dong Han
COMEBACK: Gardensay
COMEBACK: Song Gain
Oh My Girl
N.Flying
The Boyz
1THE9
NC.A
Lim Jimin
Dongkiz
Woohyun
Yoo Seung Woo
Also Read: BTS Recreates The Beatles US Debut With 'The Late Show'