Chennai Rains: Heavy rains predicted as NE monsoon sets in South India
Northeast Monsoon Sets In Over South India, Heavy Rain Predicted over next few days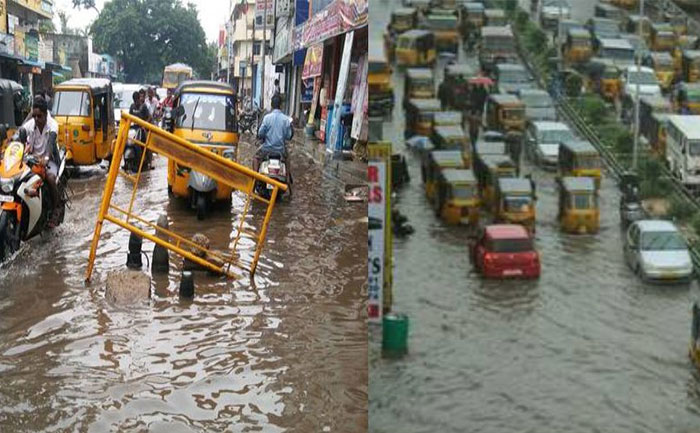 The Northeast Monsoon has set across Tamil Nadu, Kerala, South Andhra Pradesh and Karnataka bringing respite to the locals. People in Tamil Nadu woke up to the gentle sound of rain on Thursday morning to the delight of the Tamilians who have been facing a water shortage. Yes,
the northeast monsoon has finally commenced in Tamil Nadu on October 17.
Parts of Chennai received moderate to heavy showers, accompanied by thunderstorms early in the morning. The Regional Meteorological Centre (RMC) has announced that parts of Tamil Nadu will continue to receive rainfall throughout the day. But schools will continue to function as usual on Thursday.
Heavy rains brought about some discomfort in many regions. Water entered inside households at Ayanapakkam in Chennai after a canal broke open following heavy rainfall in the morning. Water has also entered into households situated along Puravazhi Salai in Thiruvannamalai district in the morning following heavy rainfall in the district. Over 50 houses situated along the stretch were waterlogged.
'வீடுகளுக்குள் புகுந்த மழை நீர்'

சென்னை அயனப்பாக்கத்தில் கால்வாய் உடைந்து வீடுகளுக்குள் புகுந்த மழைநீர்

அதிகாரிகள் நடவடிக்கை எடுக்கவில்லையென பொதுமக்கள் குற்றச்சாட்டு #Rain pic.twitter.com/p1AQYmTOgw

— PuthiyathalaimuraiTV (@PTTVOnlineNews) October 17, 2019
Weather forecast department has said that, Chennai city and nearby areas have been receiving rain since Tuesday night. Poonamallee received 11 cm rainfall and Pamaban in Ramanathapuram district received 10 cm rainfall, officials said. Isolated heavy rain in Kanniyakumari, Tirunelveli, Tuticorin, Ramanathapuram, Tiruvallur and Kancheepuram are expected in the next 24 hours. Chennai may get moderate rainfall over the next two days.
'வீடுகளுக்குள் புகுந்த மழை நீர்'

சென்னை அயனப்பாக்கத்தில் கால்வாய் உடைந்து வீடுகளுக்குள் புகுந்த மழைநீர்

அதிகாரிகள் நடவடிக்கை எடுக்கவில்லையென பொதுமக்கள் குற்றச்சாட்டு #Rain pic.twitter.com/p1AQYmTOgw

— PuthiyathalaimuraiTV (@PTTVOnlineNews) October 17, 2019
Chennai and large parts of Tamil Nadu had suffered unprecedented drought and drinking water scarcity since May due to inadequate monsoon last year. All four major lakes supplying drinking water to the city had dried up, forcing Chennai Metro Water to cut piped water supply by 40 per cent. Two trains had been deployed to bring 10 million litres of drinking water from Vellore district between July and September. The Local Administration Department has released a six-minute-long film promoting rainwater harvesting in the state.
This year things look good for the Southern state and the heavy downpour is being welcomed by all.
Also Read: Leonardo DiCaprio on water crisis in Chennai: Only rain can save the city from this situation