High alert in Kerala, Tamil Nadu after terror suspects detained
After Coimbatore, Vellore and Tiruvannamalai on high alert after terror suspects detained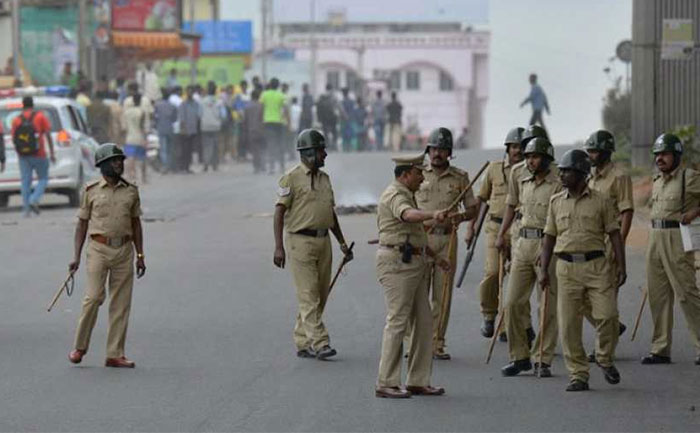 A 'red alert' was sounded in Tamil Nadu's Coimbatore district following intelligence inputs of six Lashkar-Taiba (LeT) terrorists' entry into the state. Security was heightened at Vellore and Tiruvannamalai too. Important places of interest have been provided with security cover.
The Coimbatore City Police had received intelligence inputs about six LeT (Lashkar-e-Taiba) terrorists who have come into Tamil Nadu through Sri Lanka. The group consists of one Pak National and five Sri Lankan Tamil Muslims. The Pakistani terrorist has been identified as Illyas Anwar. According to the warning, the men are likely to have disguised as Hindus "with tilak/bhabuti smeared on their foreheads".
Now the police have detained a suspect from Kerala's Thrissur.  The Keralite suspected to have connections with the Lashkar-e-Taiba terror outfit was taken into custody from the Ernakulam First Class Magistrate Court premises.
Coimbatore: Following terror alert in the city, Special Investigation Team (SIT) has taken 2 persons for inquiry, after they were suspected of having links with a person arrested by Kerala Police 2 days ago for being involved with Lashkar-e-Taiba. More details awaited. #TamilNadu pic.twitter.com/WGHLV0ROn2

— ANI (@ANI) August 24, 2019
The accused, Abdul Kader Rahim, 50, of Kodungallur in Thrissur, was being interrogated by top police officials, including IG and Kochi City Police Commissioner Vijay Sakhare at a police guest house in the city. One of his acquaintance is also reportedly under the scanner too.
As reported by a source to Zee News, Three other accused were detained form Tamil Nadu on Saturday on suspicion that they were in touch with the terrorists and are being interrogated at an undisclosed place.
Kerala DGP Loknath Behra has directed all district police chief's to be on high alert. The police have been asked to remain vigilant at places like bus stations, railway stations, airports and other public places where people gather in large numbers.
In addition to tightened security at airports and railway stations, vehicle checks and random checks were put in place in crowded places in the region.
Also Read: Mumbai: Coast Guard sounds high alert on possible terrorist attack