Coronavirus: South Korea raises highest level alert as cases jumps to 602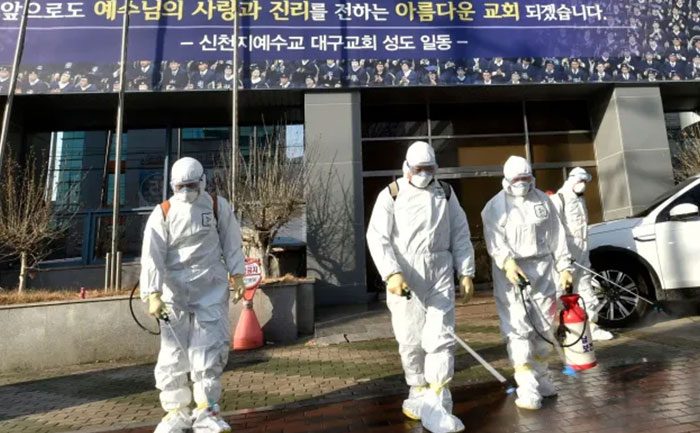 South Korea has confirmed that cases of coronavirus jumped by 169 to 602. They added that its death toll rose to five on Sunday (Feb 23), with a majority of cases linked to a church in the south-eastern city of Daegu. South Korean President Moon Jae-in has signaled the potential for unprecedented steps as the country reeled from a surge in coronavirus cases.
The government has raised the infectious-disease alert to "red," the highest level. This happened after a 20-fold surge in confirmed cases over five days. Most of the additional cases were found to be linked to a Shincheonji Church of Jesus congregation in Daegu. A 61-year-old woman known as "Patient 31", who attended services at the church, tested positive for the virus last week. The woman had no recent record of overseas travel.
More than 300 or 55 percent of the total confirmed cases were linked to the Shincheonji Church, Korea Centres for Disease and Control and Prevention (KCDC) said. Catholic churches in the cities of Daegu, Gwangju and elsewhere have suspended mass and other gatherings.
KCDC director Jung Eun-kyeong said, Some 9,300 Shincheonji members in Daegu have either been quarantined or have been asked to stay at home.
Singapore's Ministry of Health (MOH) has advised travelers to avoid non-essential travel to Daegu and Cheongdo. The US State Department also raised its travel advisory level one notch for South Korea to Level 2 on a scale of 1 to 4, asking travelers to avoid contact with sick people amid the contagious virus spread in the country. Israel has issued an entry ban on South Koreans and refused to allow non-Israelis to disembark from a Korean Air plane on Saturday. Britain has also advised its nationals "against all but essential travel to Daegu and Cheongdo".
Also Read: Coronavirus: Two passengers test positive at Kolkata airport