Daily Horoscope 25th April 2020: Check Astrological Prediction For All Zodiac Signs
Check out today's Horoscope for all the zodiac signs.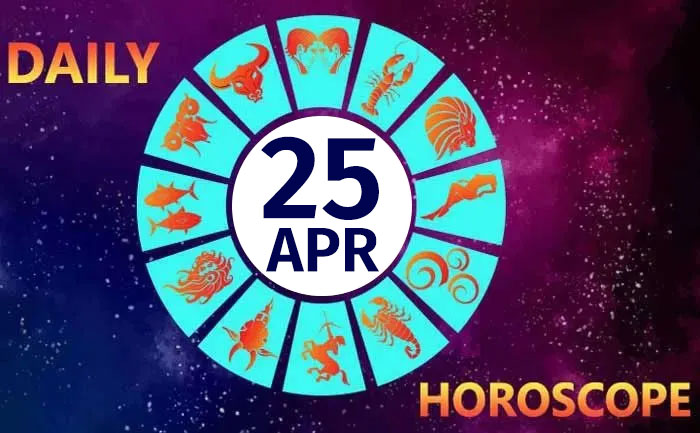 Horoscope Today, April, 25th, 2020: IF TODAY IS YOUR  BIRTHDAY: Your radical number is 7. As a Taurus born on April 25th, you are defined for your loving nature and determination. You have always loved the feeling of being in love and sharing love with others. You have earned many close relationships and friendships. Your lucky colours are scarlet and sea blue. Monday and Tuesday are lucky days.
In this article, we have brought you today's astrological predictions for all the sun signs like Gemini, Scorpio, Leo, Taurus, Cancer, and others. Check out the astrological prediction for all zodiac signs.
 Horoscope Today, April 25, 2020: Check today's astrological prediction from all sun signs
Daily Aries Horoscope:
The acquisition of ancestral property is in the pipeline for some. An exercise regime will ensure fitness. You have been experiencing a very intense relationship with your partner.  The day will go especially smoothly at the workplace. You and your spouse will enjoy each otherメs company. Lucky Colour: Light Blue
Daily Taurus Horoscope:
Daily GEMINI Horoscope:
Don't succumb to any get-rich-quick schemes. Something worrying you at work is likely to be sorted out. Someone's unexpected arrival at home threatens to upset your personal plans. Today you are likely to realize that whatever is happening in your love life is truly serious. Lucky Colour: Chocolate
Daily CANCER Horoscope:
This is not the time to take things easy on the academic front, as you may lag behind. A healthy bank balance will allow you to buy a major item. Pressure on the work front may mount. Take care of your health and maintain hygiene.  Someone is out to take advantage of you on the romantic front. Lucky Colour: Light Pink
Daily LEO Horoscope:
The stars say that love is in the air for you today. Keep your eyes open. Today you are also inclined to receive a gift from an unexpected source. It is a good idea to continue doing yoga and running practices. Today is the day when you may take the final step to quit your job.  This will be a good day for students and they will achieve their goals. Lucky Colour: Light Blue.
Daily VIRGO Horoscope:
A family reunion is on the cards and will enable you to meet everyone.  Moneywise, you will find yourself in the most comfortable situation. Your idea of doing something new on the professional front will get the green signal. You may find it difficult to keep your promise on the romantic front. Lucky Colour: Mauve
Daily LIBRA Horoscope:
A property issue is likely to be settled in your favour.  You are likely to get an excellent opportunity on the professional front. Your self-confidence is actually at a low level. Putting in long hours at work may take a toll on your health.  An encouraging sign on the romantic front is likely today. Lucky Colour: Green
Daily SCORPIO Horoscope:
A sense of satisfaction is likely to be achieved as you start faring well on the academic front. Winning brownie points on the social front are indicated. You will need to mobilize your resources to ward off a financial crunch. You are likely to find yourself fitter than usual.  A passing acquaintance with someone from the opposite camp shows all signs of turning romantic! Lucky Colour: Lemon
 Daily SAGITTARIUS Horoscope:
New opportunities are around the corner. Unresolved issues in other areas of life can affect your health today.   Things will remain normal in the workplace, but an excessive workload will hassle you. You must change your routine if you want to catch up with someone interesting. Keep strict control over your speech while talking to people. Lucky Colour: Beige
Daily CAPRICORN Horoscope:
An opportunity to study abroad may slip away. You will need to remain calm in trying situations. You are likely to remain on a sound footing, as far as finances are concerned Starting an exercise routine will help you in overcoming lethargy.  Desire you had been harbouring for meeting someone special is likely to be fulfilled today. Lucky Colour: Sky Blue
Daily AQUARIUS Horoscope:
Playing stocks should be best avoided.  Be careful while using the road or handling anything heavy. Don't leave anything to chance, especially in exams. A good diet will find most of the bodily ills disappear. Today, a fantastic time can be expected in the company of the ones you love. Lucky Colour: Pink
Daily PISCES Horoscope:
You are likely to adopt a fitness program that matches your lifestyle. A loan applied for is likely to be sanctioned soon. Do not disappoint your beloved with your mood swings. The most profitable day is foreseen for those involved in buying and selling. Lucky Colour: Purple
Also Read:  Taurus Love Horoscope 2020: Personality, Traits, Compatibility & Celebs Born Under This Zodiac Sign