Daily Horoscope 21st March 2020: Check Astrological Prediction For All Zodiac Signs
Check out today's Horoscope for all the zodiac signs.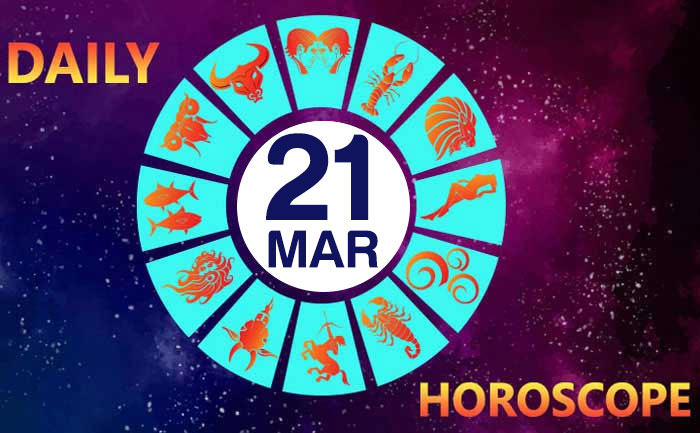 Horoscope Today, March 21st 2020: IF TODAY IS YOUR  BIRTHDAY: Your radical number is 3.  If you were born on March 21st, your zodiac sign is Aries. You are loving, romantic, and sincere. Although you love your home, you love to travel and explore a world outside of your own. Your lucky colours are Red and Green. Tuesday and Thursday are your lucky days for you.
In this article, we have brought you today's astrological predictions for all the sun signs like Gemini, Scorpio, Leo, Taurus, Cancer, and others. Check out the astrological prediction for all zodiac signs.
 .
Horoscope Today, March 21, 2020: Check today's astrological prediction from all sun signs
Daily Aries Horoscope:
This is a good day to negotiate a property deal. This will be a good day for students and they will achieve their goals.  There are chances of sudden monetary gains but your expenses will remain high. Your health will remain good.  Those in business are likely to achieve much today. Getting romantically involved with someone is on the cards for some. Lucky Colour: Saffron
 Daily Taurus Horoscope:
Daily GEMINI Horoscope:
A family function is likely to keep you busy.  This is an excellent time for students preparing for a crucial competition. A positive beginning to a new project or venture can be expected.  Your prestige shall rise in the workplace and social sphere. There will be chances of sudden monetary gains.  Chances of making a relationship permanent by tying the knot are foreseen for some. Lucky Colour: Violet
Daily CANCER Horoscope:
An excellent day is foreseen for those pursuing academics. You are likely to feel good about the way things are going in your life. You will manage to raise the capital for funding a project.  Take care of your health as an eye-infection may bother you.  Business people may plan something new. Your efforts to come back in shape seem most encouraging.  Looking up someone is on the cards and will make the day interesting. Lucky Colour: Violet
Daily LEO Horoscope:
Someone in the family is likely to lend you a helping hand in matters professional.  Changes are foreseen on the academic front. Leo sign people will get success in all their works.  The business and salaried people may make significant gains. Your marital life will remain good. Positive thoughts are likely to fill you with good vibes. Small gestures will matter immensely on the romantic front. Lucky Colour : Dark Slate Grey
Daily VIRGO Horoscope:
Virgo sign people will be bothered by health-related issues. You need to remain vigilant in money-related issues else you may have to incur a loss.  Be alert while driving any vehicle.  You will manage to achieve something that you had previously given up on.  There is a fifty-fifty chance of earning some extra money today. An initiative on the health front is likely to prove beneficial. Those meeting lovers on the sly need to be careful. Lucky Colour: Parrot Green
Daily LIBRA Horoscope:
Libra sign people may make financial gains. You may get good news related to your job. Students will make many achievements today. Chatting up old friends and colleagues will prove to be enjoyable. A healthy bank balance is likely to give you added confidence. A promising day for professionals is foretold.  An impromptu plan with the lover is likely to sparkle your love life. Lucky Colour: Dark Brown
Daily SCORPIO Horoscope:
Scorpio sign people will get success in their job-related tasks.   Your health will remain good today.   You are likely to remain in a confused state over an issue today. Be open to the advice of those more experienced. Wealth comes your way from unexpected sources. Taking up jogging or brisk walking is a step in the right direction.  Love life will remain evergreen through your efforts. Lucky Colour: Red
Daily SAGITTARIUS Horoscope:
Sagittarius sign people will have to put in extra effort in the workplace. There will be chances of monetary gains on account of your siblings. Students will get an adequate result of their hard work. Take care of your health. Work is likely to pile up on the academic front.  Weigh your words or you may offend the partner with something you didn't intend to say. Lucky Colour: Parrot Green
Daily CAPRICORN Horoscope:
Capricorn sign people will be bothered by unnecessary expenses. You will have to face obstacles in the workplace. Take care of your health as a serious illness may trouble you.  This will be an adverse day for students.  Monetary condition of those in business is likely to improve. You may need to design your fitness plan according to your lifestyle.  Stay away from extra-marital affairs it will cause you immense problems. Lucky Colour: Cream
Daily AQUARIUS Horoscope:
You can expect a spot of appreciation for a task well done on the academic front. Meeting a childhood friend is possible. Good health will keep you in an upbeat mood. The marriage of someone close in the family is likely to get fixed.  Aquarius sign people will get a solution to an old problem. A sudden monetary gain is likely.  Your extrovert nature and pleasant disposition are likely to attract a mate soon. Lucky Colour: Peach
Daily PISCES Horoscope:
A competitive situation on the academic front may soon find you in your element.  You will benefit by taking a break from your regular exercise routine.  Check your mood swings as they can upset others in the family.  Pisces sign people will get good gains in their business deals. Take care of your health as there are chances of getting cold and cough.  Love life will be immensely fulfilling.Lucky Colour: Dark Yellow
Also Read: Daily Horoscope 20th March 2020: Check Astrological Prediction For All Zodiac Signs