Swarms of locusts enter Jaipur residential localities
Swarms of locusts enter Jaipur, FAO warns of more attacks till early July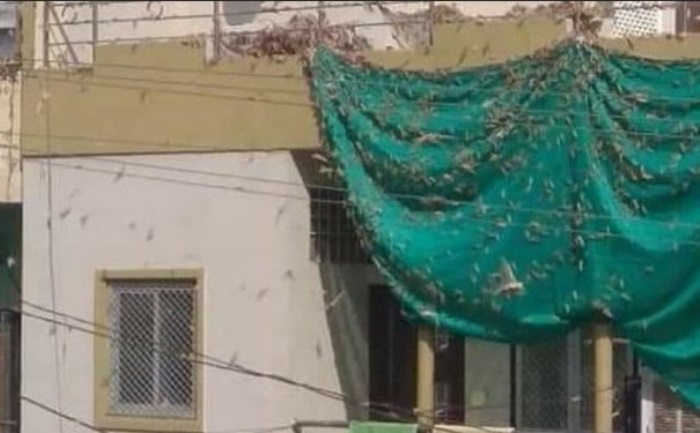 After the COVID-19 pandemic, an earthquake, and a devastating cyclone, India is now facing the threat of locusts. After a swarm of locusts was spotted on the outskirts of Jhansi and Ujjain district. They have now overrun several residential localities of Jaipur in Rajasthan.
According to a TOI report, locusts had entered Rajasthan in April and have covered 50,000 hectares of land thus far.
— Vishwa Golyan (@vishwa_golyan) May 25, 2020
United Nations Food and Agriculture Organization (FAO) warned of several attacks at least until early July. They said that as vegetation dries out, more swarms will move to their summer breeding areas along both sides of the Indo-Pakistan border till early July.
#Rajasthan #LocustAttack in #Jaipur
Video of Locust Jaipur's Benar Road Area.@RajGovOfficial @KatariaLalchand pic.twitter.com/5z7jDT5I9i

— Dinesh Kumawat (@dineshkumawat) May 24, 2020
The swarm, originating in North-West Pakistan, passed through Barmer and Jaisalmer districts before arriving at Jaipur through Nagaur and Sikar. The swarms later headed towards the Dausa district.
Locust attacks have been a major concern in Rajasthan since last year, with swarms damaging large portions of crops. This is the second locust attack in India during the past one year. The first happened between December to February, destroying crops in Rajasthan and Gujarat.
Locust attack in jaipur..😱😱
Very soon it will move towards other part of India..😥😥
this year going to be worst for many reasons.. locusts can destroy crops in very short span of time… 😢😶 pic.twitter.com/4d4kBHt19k

— Harshita Patel (@_harshu_2799) May 25, 2020
To tackle the problem, the Central government along with states is regularly monitoring the situation. They have ordered a special spraying machine from England that can destroy the locusts through Arial spray.
Also Read: COVID-19 Updates: Rajasthan Makes Mask-Wearing Compulsory