Lava gushes out of Taal Volcano in Philippines …
Philippines: lava gushes from Taal volcano as ash spreads to Manila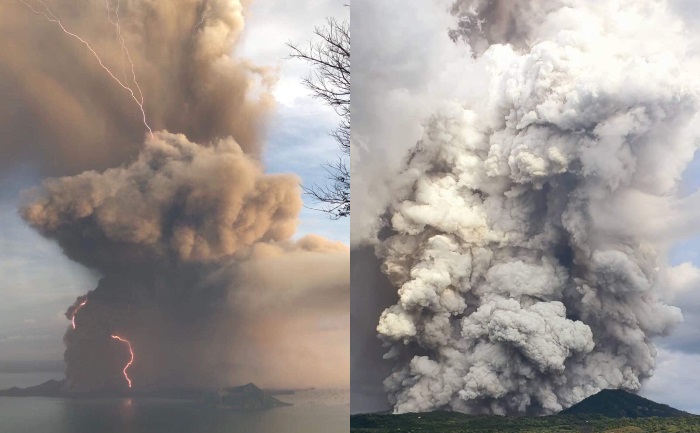 Thousands flee in the Philippines as a 'weak' lava fountain accompanied by thunder and flashes of lightning erupted from the active Taal Volcano. Taal is the second most active volcano in Philipinnes. The last eruption was reported in 1977. After months of restiveness, the volcano rumbled back to life on Sunday, blasting steam, ash and pebbles up to 10km to 15km into the sky.
Still can't believe of what I'm seeing.
Keep safe everyone???? #TaalVolcano pic.twitter.com/P4yOJU3Qa4

— lj (@ljmiran13) January 12, 2020
There were no reports of casualties but clouds of ash forced the shutdown of the country's main airport due to the risk to airplane engines. More than 240 international and domestic flights were canceled. The airport partially reopened later on Monday.
The government volcano-monitoring agency raised the danger level around Taal to level 4, indicating "an imminent hazardous eruption". President Rodrigo Duterte's office has ordered the suspension of government work in the capital and of all school classes in Manila and other areas affected by the ash.
Agoncillo town, the nearest area in the Taal crater lake turned into a "desert" after the whole site was covered with gray ashes and coconut trees were almost flattened. #TaalVolcano | via @hanahtabios pic.twitter.com/yIQD0OAMKm

— Manila Bulletin News (@manilabulletin) January 13, 2020
The government's disaster-response agency reported about 8000 villagers have moved to at least 38 evacuation centers in the hard-hit province of Batangas and nearby Cavite province. Some residents could not move out of ash-blanketed villages due to a lack of transport and poor visibility.
Majestic yet so scary ? Stay Safe everyone. Keep Praying ??#TaalVolcano pic.twitter.com/VhfaAAOUV3

— ❌ FRANCKEY ??❌✈️ (@francdelasalas) January 12, 2020
Taal is among two dozen active volcanoes in the Philippines, which lies along the so-called Pacific "Ring of Fire". The country is one of the world's most disaster-prone countries as it lies in a seismically active region that is prone to earthquakes and volcanic eruptions. Typhoons too hit the country each year.
Also Read: Philippines earthquake: 6.4 quake shakes the city