35 dead as Typhoon Hagibis slams Japan, leaves 33 dead
Typhoon Hagibis in Japan: Landslides, raging rivers leave 33 dead; over 3 lakh homes without electricity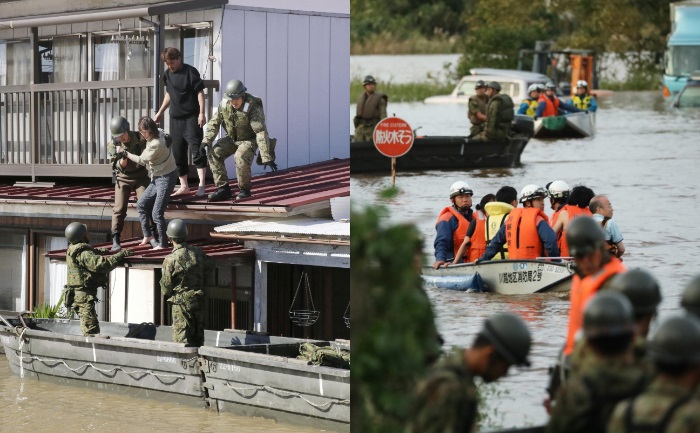 Typhoon Hagibis the worst storm to hit Japan in decades left a trail of destruction in surrounding regions. The typhoon has left at least 37 dead, with 20 missing and over 3 lakh homes without electricity. It battered into eight prefectures across Japan, with wind speeds of up to 225km/h (140mph). Soon 110,000 rescuers from police officers, firefighters, coast guard, and military were deployed to reach those trapped by landslides and floods.
Stay save #japan #PrayForJapan #TyphoonHagibisJapan pic.twitter.com/3dUKzMKSfp

— Abd.Rozak (@AbdulRozakHP) October 11, 2019
Hagibis smashed into the main Japanese island of Honshu on Saturday night as one of the most violent typhoons in recent years. It claimed its first victim when the high winds flipped a vehicle killing its driver.
Pray for Japan ????????? #SaveJapan#PrayForJapan #Japan #TyphoonHagibisJapan #ShowtimeAdvicedGanda pic.twitter.com/fWqhBXEWl1

— Dennis Nolasco (@DennisLampas15) October 12, 2019
Rivers overflowed their banks at close to dozen locations. Military and fire department helicopters winched survivors from roofs and balconies in several locations. Rescue workers evacuated hundreds of people from a retirement home in Kawagoe, northwest of Tokyo, which was flooded up to its top floor.
Pink sky looks beautiful but it's the warning of a disaster. Be safe everyone.#TyphoonHagibisJapan#Pray4Japan pic.twitter.com/a8P8Rhd6bM

— Abdurraheem Haider عبدالرحېم (@AbdurraheemHai1) October 12, 2019
Bodies were retrieved from submerged homes and vehicles, from raging overflowing rivers, and from buildings buried in landslides. The storm grounded flights and halted local and bullet train services. But by Sunday some of the services were restored.
The government's Fire and Disaster Management Agency, which tends to be conservative in its counts, said late Sunday that 14 people died, 11 were missing and 187 were injured as a result of the typhoon. It said 1,283 homes were flooded and 517 were damaged, partially or totally. Tokyo Electric Power Co said late Sunday that more than 66,000 homes were still without power. Tohoku Electric Co said 5,600 homes still lacked electricity.
Also Read: Top 10 Best Places to visit in Japan