Uttarakhand: Bus falls into 700 ft gorge, kills at least 14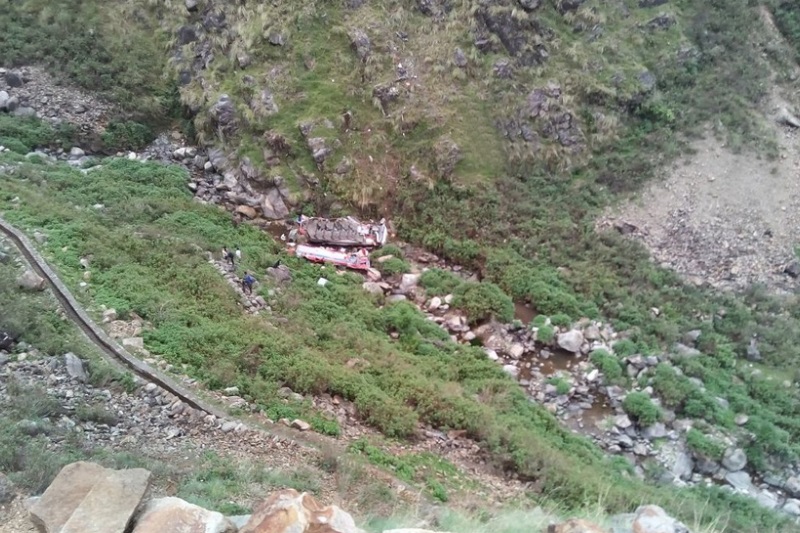 At least 14 people are reported to be dead and 17 have been injured in a bus accident as it fell into a 250-metre gorge.  The Uttarakhand Transport Corporation bus skidded off the Rishikesh-Gangotri Highway and fell into the gorge near Suryadhar.  Around 25 people were reported to be travelling in the bus.
Soon after the mishap, the local administration and police rushed to the spot. There were 25 people onboard the bus when the accident took place.
Uttarakhand: 10 people died, 9 injured when the Uttarakhand Transport Corporation bus they were in, skidded off Rishikesh Gangotri Highway into a 250 metre deep gorge near Suryadhar. Local admn & police have reached the spot. There were 25 people in the bus. More details awaited. pic.twitter.com/FmEfXetXF0

— ANI (@ANI) July 19, 2018
Six of the injured were reportedly in a critical condition, and had to be airlifted to the All India Institute of Medical Sciences (AIIMS) in Rishikesh.
Also Read: Mysterious places in India
Sources in the State Disaster Response Force stated that the bus, at around 7:45 am, coming from Uttarkashi's Badkot, fell into a 250-metre gorge in Suryadhar area.
The state government directed helicopters to be made available to bring as many injured as possible to AIIMS. It has also announced an ex gratia payment of Rs 2 lakh each to families of the deceased. The injured will also be given Rs 50,000 as compensation. A magisterial inquiry has been ordered into the incident.
14 died & 18 injured out of whom 6 are critical & admitted to AIIMS Rishikesh. Local police, admn, SDRF teams are present at spot. All the injured have been rescued. Operations to recover bodies are underway: Sanjay Gunjyal, IG (SDRF) on bus accident near Suryadhar #Uttarakhand pic.twitter.com/3DJ2UYCOYw

— ANI (@ANI) July 19, 2018
"Rescue machinery was immediately put into action at the district as well as the state levels. The helicopter is in the process of airlifting victims. District magistrate Sonika is at the accident site, monitoring the rescue and relief work," said secretary (disaster) Amit Singh Negi.
Earlier in July, forty-eight passengers were killed after their bus fell into a 200-metre-deep gorge in Pauri Garhwal district in Uttarakhand. While 45 of them died on the spot, the critically injured were rushed to the hospital. Nearly 50 passengers were travelling in the 28-seater bus which was headed for Ramnagar from Bhoan. The reason for the accident is not known yet, police said.
Also Read: 4.0 magnitude earthquake causes panic; tremors felt across the country