Vin Diesel discloses Cardi B joined the Fast & Furious Family
Vin Diesel reveals in new post that Cardi B is a part of Fast & Furious 9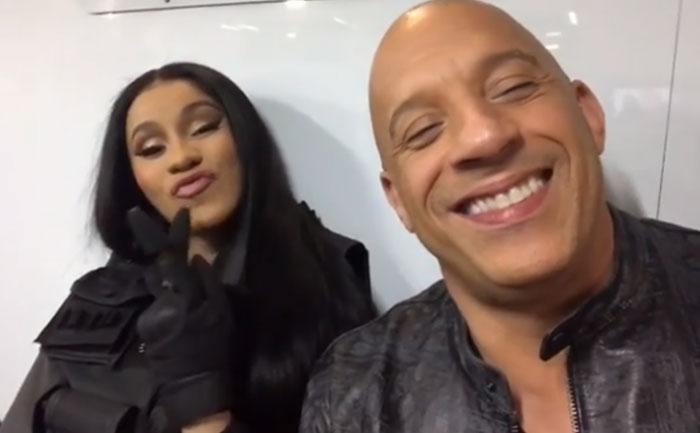 Cardi B has joined Fast & Furious 9 family. Vin Diesel revealed her joining through a new post. The xXx: Return of Xander Cage actor broke the news to his fans by taking to Instagram on October 22, Tuesday. He teased her involvement by putting a video where he was present as well as Cardi B.
Vin Deisel
took to Instagram and posted a video. He wrote, "Last day in the UK! Pa mi Gente… #Fast92020 #Fatherhood" Check out the video below.
Apparently, Cardi B is all set for her first movie role in Hustlers. Not also that, she also expressed her desire to continue acting. In Ellen DeGeneres show, Cardi B said that she would continue to act and that she would also film for a movie this month as well.
Moreover, Vin Diesel also revealed in Monday that Ozuna will make an appearance in the upcoming film. He shared the picture on his Instagram Handle and captioned, "As you know, we have often found great talent in the music industry to cross over into film. They are expected to leave all the accolades at the door to embrace the character with integrity… and that is exactly what Ozuna has done. Very proud of your work and role in Fast 9!
Pa Mi Gente! All Love, Always…" Check out the picture below.
Lately, the cast returning in the ninth installment are Tyrese Gibson, Michelle Rodriguez, Jordana Brewster, Chris "Ludacris" Bidges, Nathalie Emmanuel, Helen Mireen and Charlize Theron. Moreover, John Cena has also joined the crew.  Even though plot details haven't been unveiled yet, Vin Diesel makes sure to updates his fans by his Instagram posts.
Also Read: Avengers: Endgame Star Mark Ruffalo Blasts At Francis Ford Coppola's Comment