Vizag: Six Killed Several Injured As Crane collapses in Hindustan Shipyard Ltd
Six Killed Several Injured As Crane collapses in Hindustan Shipyard Ltd in Visakapatnam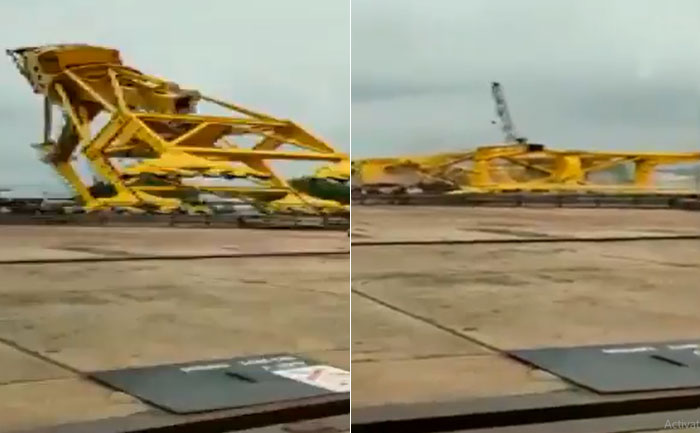 Visakhapatnam has been hitting headlines since the past couple of months. It is once again in limelight for another industrial disaster. A heavy-duty crane collapsed at the Hindustan Shipyard Limited (HSL) in Vizag city of Andhra Pradesh. Ten people were killed and many injured. The crane was purchased by the HSL around a decade ago for various works at the Shipyard.
#WATCH A crane collapses at Hindustan Shipyard Limited in Visakhapatnam, Andhra Pradesh. 10 dead and 1 injured in the incident, says DCP Suresh Babu. pic.twitter.com/BOuz1PdJu3

— ANI (@ANI) August 1, 2020
The incident took place on Saturday morning while the staff of the HSL was examining the load test. The crane crashed while the load testing was underway. Rescue teams were trying to save the trapped workers. Three dead bodies were retrieved from under the crane.
Shocking : Another Industrial Accident In #Vizag.

A crane has collapsed in #HindustanShipyard Ltd.

Reportedly 10 workers died due to the crash. 🙁
#Vishakapatnam #AndhraPradesh pic.twitter.com/qZvtzXvQZg

— Suresh Kondi (@V6_Suresh) August 1, 2020
As reported by sources to News meter, The police are yet to establish the identity of the deceased and injured persons. Among the deceased, some were employees of HSL while few were contract employees.
The HSL authorities yet issue a statement in regard to the incident.
This is the third such industrial accident in Vizag. Earlier more than 11 were killed and 1,000 were left sick after toxic styrene gas leaked from LG Polymers facility. Next Two people were killed and four were hospitalized after Benzimidazole gas leaked at Sainor Life Sciences facility in Visakhapatnam.
Also Read: Vizag gas leak: Two Dead, Four Hospitalised After Gas Leak At A Pharma Unit