BJP-Shiv Sena finalise alliance for Maharashtra Assembly elections
Maharashtra Polls 2019: BJP, Shiv Sena finalise alliance for Assembly elections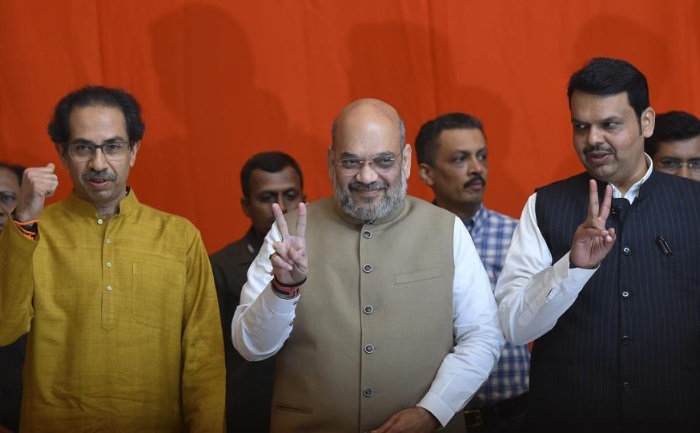 After days of suspense, the ruling Bharatiya Janata Party (BJP) and Shiv Sena have finally announced their alliance for the Maharashtra Assembly polls. Chief Minister Devendra Fadnavis and Sena president Uddhav Thackeray will announce the quantum of seat-sharing through a joint statement.
The alliance was announced via a press release by Maha Yuti (Grand alliance) of the BJP, SS, RPI, RSP and other parties.
BJP president Chandrakant Patil and senior Sena leader Subhash Desai issued a joint signed statement. It read as, "Under the leadership of Devendra Fadnavis and under the guidance of Uddhav Thackeray, the government of grand alliance took the state to a new height in last five years and now as per the democratic traditions we will be facing the polls. Following the discussions between Uddhav Thackeray and Devendra Fadnavis and also with other allies such as Ramdas Athawale, Vinayak Mete, Sadabhau Khot, Mahadev Jankar, the decision to contest upcoming elections in an alliance has been taken unanimously. As per that, we are announcing the grand alliance."
This development has come a day after Thackeray handed out mandatory A-B forms. The forms authorise a candidate as official party candidate to its incumbent MLAs. He has thus authorised his candidates to file their nominations as Shiv Sena candidates for 2019 Maharashtra Assembly Elections.
As reported by sources to the tribune, Aaditya Thackeray confirmed on Monday evening that he would be contesting the forthcoming assembly elections. He will be contesting from Worli. But he refused to comment whether the Shiv Sena is angling for the post of deputy chief after the election.
Also Read: After Shiv Sena activist accused Netflix of 'defaming' Hindus, #BanNetflixInIndia Trends on Twitter