Jimin of BTS courts controversy with T-shirt once again
BTS Jimin is courting controversy because of the words on his t-shirt in a picture shared by the group from Empire State Building NYC.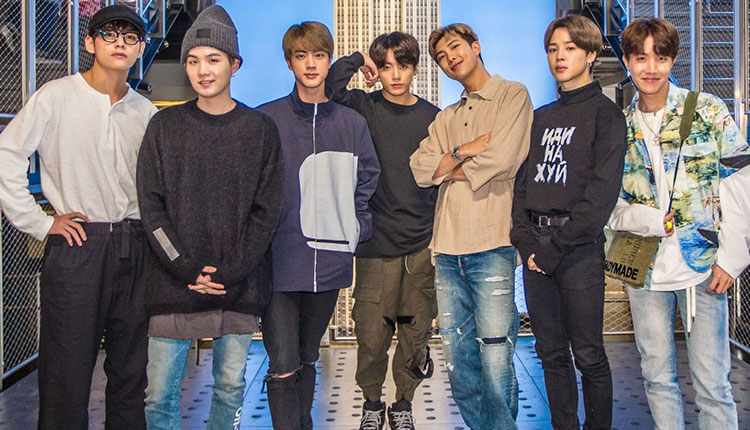 BTS also is known as the Bangtan Boys is a seven-member South Korean boy band formed in Seoul in 2013. The popular band was in New York City to participate in an iHeartRadio LIVE interview with host Elvis Duran. The Empire State Building lighted up the top of the building in a sparkling purple for five minutes every hour from sunset for BTS and ARMYs. The popular band group shared a picture posing with a smaller version of the building on their Twitter handle. But what caught the attention of fans were the controversial words on Jimin's tee. Khalid Opens Up About His Collaboration With BTS Boyband – Watch
As reported by AllKPop, Jimin who posed in a black suit had worn a t-shirt with the Russian phrase "Иди нахуй". YTN Star confirmed with a Russian expert that this means 'f*ck you' in English. Russian fans were surprised. Fortunately, the Russian fans are accepting the incident. Later, Jimin found out about the meaning and he didn't wear it!
Well, this is not the first time Jimin has courted controversy, during their Tokyo tour a TV network in Japan had canceled an appearance by uber-popular K-Pop band BTS after a photo emerged of Jimin wearing a T-shirt that appeared to celebrate the atomic bombing of Hiroshima. Though the boy band's agency has confirmed that it is not a costume designed to hurt the victims of the atomic bomb. It was a mistake, the artist has been wearing it because the company has not been able to fully inspect it beforehand.
We think the company should be more careful and inspection is needed when choosing clothes to be worn for a tour. As the band has grown quite popular in the United States and Europe.
Also Read: The Empire State Building sports a new look for BTS and ARMYs