Daily Horoscope 10th April 2020: Check Astrological Prediction For All Zodiac Signs
Check out today's Horoscope for all the zodiac signs.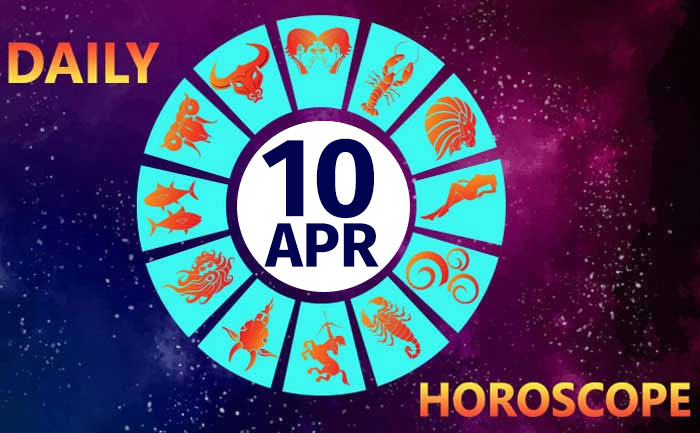 Horoscope Today, April, 10th, 2020: IF TODAY IS YOUR  BIRTHDAY: Your radical number is 1. As an Aries born on April 10th, you have an industrious and witty nature. You have set very high standards for yourself and deeply desire success. More importantly, you have the determination and drive to reach your goals. Your lucky colours are Orange and Yellow. Lucky days for you are Tuesday and Sunday.
In this article, we have brought you today's astrological predictions for all the sun signs like Gemini, Scorpio, Leo, Taurus, Cancer, and others. Check out the astrological prediction for all zodiac signs.
 .
Horoscope Today, April 10, 2020: Check today's astrological prediction from all sun signs
Daily Aries Horoscope:
Some of you may have to wait for some more time to become proud possessors of property. You will be able to tackle a pressing problem on the academic front by your own efforts. Overindulging in food and drinks will need to be stopped. You will meet with somebody from your past that used to have a close relationship with you. You may get encouraged to take up an exercise regimen. Lucky Colour: Dark Green
Daily Taurus Horoscope:
Daily GEMINI Horoscope:
An entertaining time is foreseen on the family front. Some domestic responsibilities may require you to apply for a leave. Professionally a challenging day is foreseen at work. Rapid improvement in health is foreseen for those suffering from an ailment.  You may gain appreciation at your workplace and among friends. Your love life is likely to pick up. Lucky Colour: Grey
Daily CANCER Horoscope:
Friends or relatives may enjoy a get together via video calls. This is the time to play your winning card on the professional front. Those undergoing surgery will make a quick recovery and be their fighting fit self again. A change in diet will improve health. Lover may require own space, respect that.Lucky Colour: Dark Grey
Daily LEO Horoscope:
Don't let a minor ailment get out of hand, as it can cause you trouble later on. A hobby is likely to give hours of entertainment to a family elder. You are likely to be recognised for your efforts on the professional front.The lover will live to his or her promise to make your day Lucky Colour: Blue
Daily VIRGO Horoscope:
Your hard work on the academic front will get recognised soon. You may get a chance to witness something exciting. Ban on spending is likely to be lifted for some youngsters.  A heart-to-heart talk with lover will prove most gratifying and help strengthen the loving bondsLucky Colour: Orange
Daily LIBRA Horoscope:
Your philanthropic nature is certain to help the needy today. Those in government jobs will be able to take positive steps to further their careers. Irregular timings can tell on your face and health. Self-discipline will be the key to your good health. Expect to get surprised by partner's ideas on the romantic front. Lucky Colour: Violet
Daily SCORPIO Horoscope:
Lack of confidence can dishearten those appearing for an important exam. Following your daily routine will keep all ailments at bay and lead you towards total fitness. Someone you are in love with is likely to plan a grand evening with you. With confusion over a relationship issue sorted out, you will heave a sigh of relief. Lucky Colour: Dark Pink
Daily SAGITTARIUS Horoscope:
You will get a lot of time to spend with family. Discussing financial matters with experts will prove an enlightening experience. If getting into shape is your concern, relax you will be able to achieve your aim. Improvement is indicated for those feeling under the weather for some time. Lover may seek space, so give in. Lucky Colour: Silver
Daily CAPRICORN Horoscope:
Achieving your immediate professional goal can pose difficulties. A heart to heart talk with an old friend is possible today. Healthwise, you will find yourself much fitter and calmer. Those preparing for competitions may find it difficult to achieve full concentration. You will find much comfort in the company of lover today. Lucky Colour: Aqua Green
Daily AQUARIUS Horoscope:
A friend or colleague may motivate you to take up a healthy activity. Some of you may plan to watch a movie with family together at home.  Money concerns may bog you down, but the situation is not as bad as you think.  Engagement is possible for the eligible. Lucky Colour: Parent Green
Daily PISCES Horoscope:
Fond memories from the past may keep you in an upbeat mood the whole day. Money will not pose any problem, but investing wisely is the need of the hour. Diet control will be the key to your good health.  Right moves are the need of the hour to woo someone you like. Lucky Colour: Magenta
Also Read:  Aries Love Horoscope 2020: Personality, Traits, Compatibility & Celebs Born Under This Zodiac Sign