Daily Horoscope 17 January 2020: Check Astrological Prediction For All Zodiac Signs
Today's Horoscope for all the zodiac signs.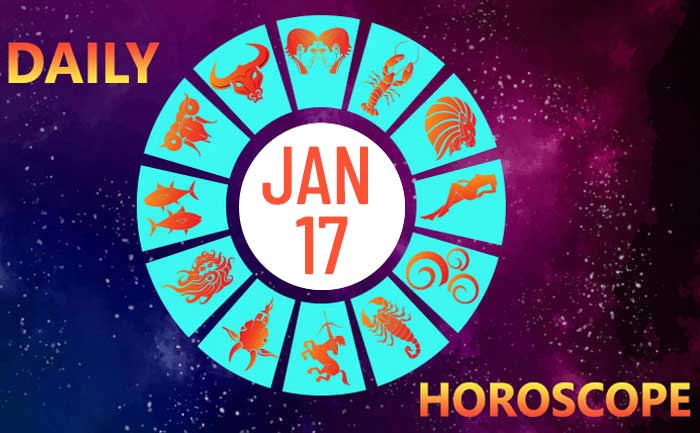 Horoscope Today, January 17, 2020: IF TODAY IS YOUR BIRTHDAY: Your radical number is 8. The number 8 is ruled by Saturn. Therefore, you can become a good businessman or an authorized person. You are a firm determined and disciplined, but an introvert person.  Your lucky gemstone is Blue Sapphire. Lucky numbers for you are 1,4,7,8,10,16,17,19.   Your lucky colors are red, black and blue. Lucky days are Saturday and Sunday
In this article, we have brought you today's astrological predictions for all the sun signs like Gemini, Scorpio, Leo, Taurus, Cancer, and others. Check out the astrological prediction for all zodiac signs.
Horoscope Today, January 17, 2020: Check today's astrological prediction from all sun signs
Daily Horoscope ARIES:
Today you can get a new suggestion for career advancement. It is the right day to start any new work. Some of you can get any good news related to travel.  Health needs some care and concern. You are likely to get possession of the house you had invested in the past. Your romantic endeavors are likely to meet the expectations of the one you love. Lucky Colour: Purple
 Daily Horoscope TAURUS:
Today, you need to keep patience, you will get what you wanted.  Maintain your cool on the domestic front. Today, keep your physical-energy level high so that you can complete some important work. as soon as possible. It is the right day for students. Health will be normal today Pampering your loved one with a gift would be a good idea. Lucky Colour: Chocolate
Daily GEMINI Horoscope
You can inspire people with your ideas today, dear Gemini.  If you can tame impatience, this can be an excellent time for useful insights.  Look to a friend or networking for some inspiration or a pick-me-up. Those unwell will manage to nurse themselves back to health.  Obstacles, if any on the financial front will be resolved.  A freshly begun romantic relationship is set to flourish. Lucky Colour: Light Blue
Daily CANCER Horoscope:
It might be good to seek some real estate advice before making decisions.  Good news regarding a family youngster is likely. If you've been feeling resentful about a relationship situation, this might emerge in the form of tense commentary today. Differences with lover need to be sorted out to strengthen the relationship. Lucky Colour: Brown
Daily LEO Horoscope:
Today the time has come to materialize the plan you were thinking of implementing earlier. Because of this, you will be very busy. Today will be a very good day for the students of this sign. But there can be some tension in married life.  A financial issue will be satisfactorily solved.  Those serving in uniform are in line for some recognition.  You may need to be at your convincing best to lure someone into your camp. Lucky Colour: Lavender
Daily VIRGO Horoscope:
Your business interests may get compromised if you disclose your intentions prematurely.  Plans to travel appear to be in the pipeline. Opportunities to earn big bucks may soon come your way.  Spending time with family will make you happy.  Today, you can get a little upset due to tooth pain. Those wishing for a passionate evening must take the initiative to make it happen! Lucky Colour: Dark Grey
Daily LIBRA Horoscope:
Today is going to be a good day.  It is very important that before you make your investment, test it. Financially, you will manage to bring down expenses.  A delicate domestic issue needs to be handled with care. Improvement in your financial status is indicated Love life appears to be stable. A romantic bond may be enhanced, or a connection can move to a new level. Lucky Colour: White
Daily SCORPIO Horoscope:
Today has brought benefits. Important works will be completed with time. If you work with this energy level today, you will definitely get success in business. A plan can be made to move somewhere. A deal may swing in your direction if you play your cards well. You will manage to establish yourself on the academic front. Tact and grace would be required to handle the lover's mood today. Lucky Colour: Brown
Daily SAGITTARIUS Horoscope:
Today is going to be a favorable day.  You may also be given something that will be challenging. There are chances of increasing income.  If you are thinking of changing jobs, then change today, you will also get a good job offer. Those thinking of a business venture must weigh all the pros and cons carefully. A chance of getting to know someone closely is about to materialize, so make the most of it. Lucky Colour: Purple
Daily CAPRICORN Horoscope:
Today your confidence level will be high. The economic situation will improve through sudden profits.  Those who are engineers will get a job offer from a big company. Enemies and diseases will haunt you today. A change of scene is needed for improving health. You are likely to gain an upper hand in a competitive situation. Expect a pleasant surprise from someone you love. Lucky Colour: Orange
Daily AQUARIUS Horoscope:
Today there will be ups and downs in the mind about anything. Students of this zodiac will get good career advice from an experienced person. Today you are likely to come in contact with someone who will prove to be very influential for your future.  Take your time in arriving at a crucial decision on the personal front, as it may have far-reaching effects. Cupid grows generous for those looking to mingle. Lucky Colour: Light Red
 Daily PISCES Horoscope:
Today is going to be a mixed day. The problem you are facing in business can increase your stress.Due to cough and cold, you may have some trouble, health may be a bit down. Make concerted efforts to come back in shape. Those academically inclined may opt for higher studies. Take steps to refurbish your social image by being more helpful and considerate. Your initiative on the romantic front will keep your chances alive with the one you admire.Lucky Colour: White
 ALSO READ:   Daily Horoscope 16 January 2020: Check Astrological Prediction For All Zodiac Signs