John, Sonam, Anushka seek justice for a stray dog brutally beaten
John Abraham, Sonam Kapoor , Anushka Sharma demand justice for a dog that was brutally beaten in a Worli building.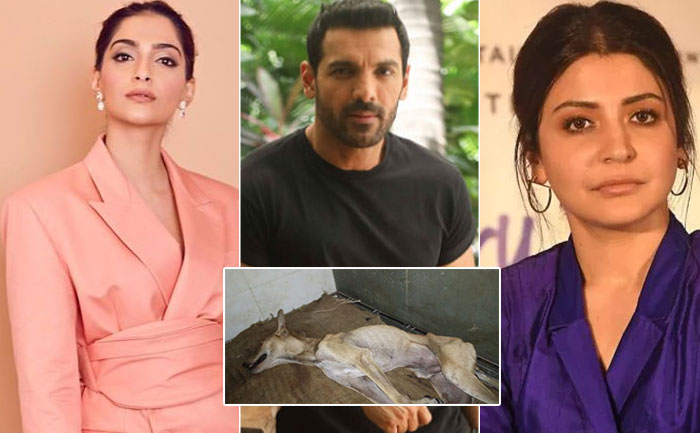 In a horrific incident in Mumbai, a stray dog was mercilessly beaten as he tried to seek shelter from rains in a Worli society. The viral video caused outrage with many protesting the cruel deed. Bollywood actor's like John Abraham, Sonam Kapoor, Anushka Sharma too demanded justice for the animal.
John Abraham took to his twitter handle and asked citizens to join him at the gathering outside the Worli building.
— John Abraham (@TheJohnAbraham) July 28, 2019
He even shared a slip of the shocking incident,
— John Abraham (@TheJohnAbraham) July 28, 2019
Actress Sonam Kapoor slamming the atrocity posted a video on her Instagram profile.
Anushka Sharma too did the same,
The ghastly crime was ordered by a resident on the second floor of Turf View building in Nehru Planetarium on July 24. Mr Bhatia instructed the watchman to thrash the dog so that no other animal dared to enter the building premises. Acting on Bhatia's instructions, the watchman beat up the dog ruthlessly, leaving it to suffer in the society's compound.
Bombay Animal Rights on July 27 lodged an FIR with the Worli police against the two accused, Mr Bhatia and the security guard of the building, under IPC sections 429 and 34. However, the two were granted bail immediately.
The dog, who has now been named Lucky, is being treated at the Crown Vet clinic. Let's hope it recovers soon.
Also Read: John Abraham Urges Influencers To Raise Their Voices Against Wildlife Cruelty