BTS's Jin hurts his knuckles while goofing around with Jungkook with a squeaky hammer
Watch as the boys get into a boxing match with a squeaky hammer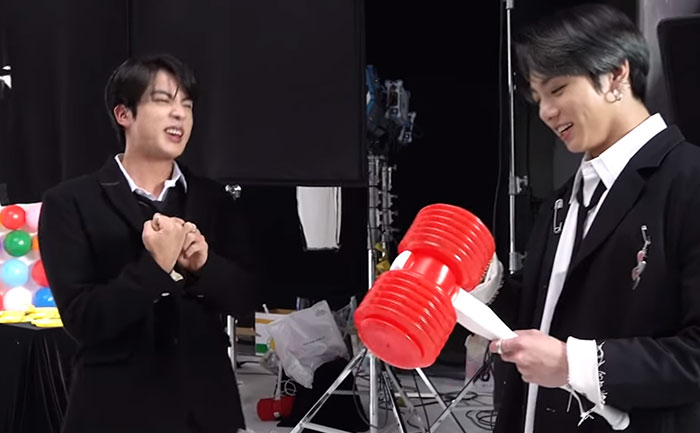 Jin was recently goofing off with fellow BTS member Jungkook when he hurt his knuckles. Jin and Jungkook seem to have gotten off from their photoshoot when they found a squeaky hammer. Being true to themselves, the BTS boys decided to get into a boxing match with the hammer.
Jungkook and Jin got into a hilarious banter while punching the hammer. However, Jin hurt his knuckles at one point in the game. He can be seen complaining about the pain in the video even as Jungkook punched away at the hammer. Of course, Jin recovered from his hurt knuckle soon enough and chased after his fellow BTS member to punch the hammer.
Check out Jin and Jungkook's hilarious video here.
The BTS members RM, Jimin, J-Hope, V and Suga MIA, Jungkook, and Jin were amongst the many celebrities who sent a message of support to Korea to overcome COVID-19. Gal Gadot and Mark Ruffalo were among the other celebrities who shared a message of hope during the trying times.
The K-Pop band BTS shared a video message on YouTube to extend support to Korea as the country struggles to fight Coronavirus. BTS member Jimin also wrote a heartwarming message to the BTS ARMY in these challenging times. He wished everyone good health and love.
A few days back, a video of an old lady expressing how much she loves BTS member Jimin went viral on the internet. The woman is being termed as the oldest fan in the BTS ARMY.
South Korea recorded 64 new cases of Covid-19 in the last 24 hours, taking the total to 8,961 with 111 deaths.
ALSO READ: BTS Jimin's 'Filter' Becomes The Most Streamed Korean Solo On YouTube Music