Mirzapur season 2: Release date, Cast, Trailer and Story: When will it out?
Here are some Possibilities for the plot of Mirzapur 2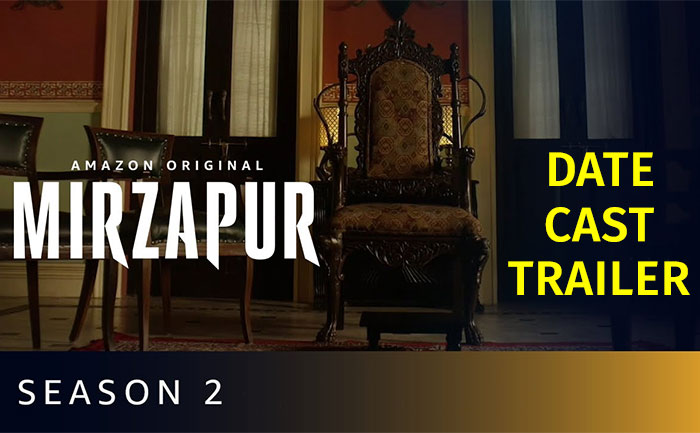 Amazon Prime Video's original series Mirzapur's season 1 was loved by one and all and people are now desperately waiting for its second season. The popular series is the thriller revolves around two Indian brothers Guddu and Bablu, who are forced into the business of drugs. Despite making the announcement of Mirzapur season 2, makers of the series yet to declare its official release date.
The first season of Mirzapur stars Pankaj Tripathi, Ali Fazal, Divyendu Sharma, and Shweta Tripathi. In this article, we will be talking about Mirzapur season 2 release date, cast, trailer and its plot.
When is Mirzapur season 2 out on Amazon Prime?
The official release date of Amazon Original Mirzapur season 2 is yet to be released by the makers. Notably, the first season of Mirzapur was released in November 2018 and it has been almost two years people are eager to watch the season 2.
It is reported that Mirzapur season 2 will be out in early 2020. Once the official release date of Mirzapur season 2 is out, we will update this article with the latest information.
Talking about its first season, it has nine episodes and it is expected that the second season of Mirzapur will also have 8 to 10 episodes. If you have not watched Mirzapur season 1, you can watch it on Amazon Prime Video.
Who stars in Mirzapur season 2?
The official list of entire Mirzapur season 2 cast is yet to be dropped by the makers. However, the lead cast such as Pankaj Tripathi and Ali Fazal will return to the series.
It is uncertain if Vikrant Massey will be returning as Guddu's brother, Bablu as he was killed in the finale of season 2. Speaking to India Today online, Massey said: "Honestly, when I started shooting for the web series, I wasn't informed about my character's death".
"I came to know about it after shooting for 15 days. I was a little taken aback.
"It was a well-written character and I wouldn't have backed out, but I had no clue about this."
What will happen in Mirzapur season 2?
It is uncertain how Mirzapur season two will unfold the story but most likely to have a more gruesome background.
Talking about the anticipated plot of Mirzapur season 2, Bablu's family will have a difficult time as Babu is no more alive. While, his father, who is an advocate by profession, will make all possible efforts to end Mafia Raaj from Mirzapur.
According to IWMBuzz.com, Sharad will get hold of Guddu, which might turn out to be his support during the end of the season and headache for Kaleen Bhaiya. Bhabhi will continue supporting Munna as she thinks it will set her free. Golu, with the power of the president of the campus, will get used to guns as she had seen the murder of her sister in front of our own eyes, and decline the loyalty of police inspector Gupta and will support Guddu's case.
The story of Mirzapur season 2 seems to be quite interesting as Guddu Bhaiyya will have more violent avatar then we had seen in the first season. Yes, he will make all possible efforts to take revenge for the death of Babu and Sweety. He is likely to get supports from several gangs. It is reported that Guddu will get support from Lala to cripple the carpet business of the Tripathi family.
Once Guddu gets supports from different gangs, Munna will have more enemies than anyone else in Mirzapur. Guddu might be using people's sentiments and will turn the tables on Munna, which will be supported by JP Yadav. Also, it is predicted that Bina will kill Akhandanand's father, which might be Guudu or Sharad.
How many episodes are in Mirzapur?
The first season of Mirzapur had 9 episodes and it is expected that the Mirzapur 2 will have 9 to 10 episodes as well.
Here are the episode titles of Mirzapur 1:
Episode One: Jhandu
Episode Two: Gooda
Episode Three: Wafadar
Episode Four: Virginity
Episode Five: Bhaukal
Episode Six: Barfi
Episode Seven: Lions of Mirzapur
Episode Eight: Tandav
Episode Nine: Yogya
Is there a trailer for Mirzapur season 2?
No, as of now, there is no official trailer of Mirzapur season two is out. However, at the end of February 2019, Amazon released a short video marking the season two announcement. The trailer is a montage of clips from the first season of Mirzapur.
The text throughout the trailer reads: "In season one we heard Sitar, Peepni, Tabla. In season two, Bajega Pura Band."